Fox yanks its gear from Tucker Carlson's Maine studio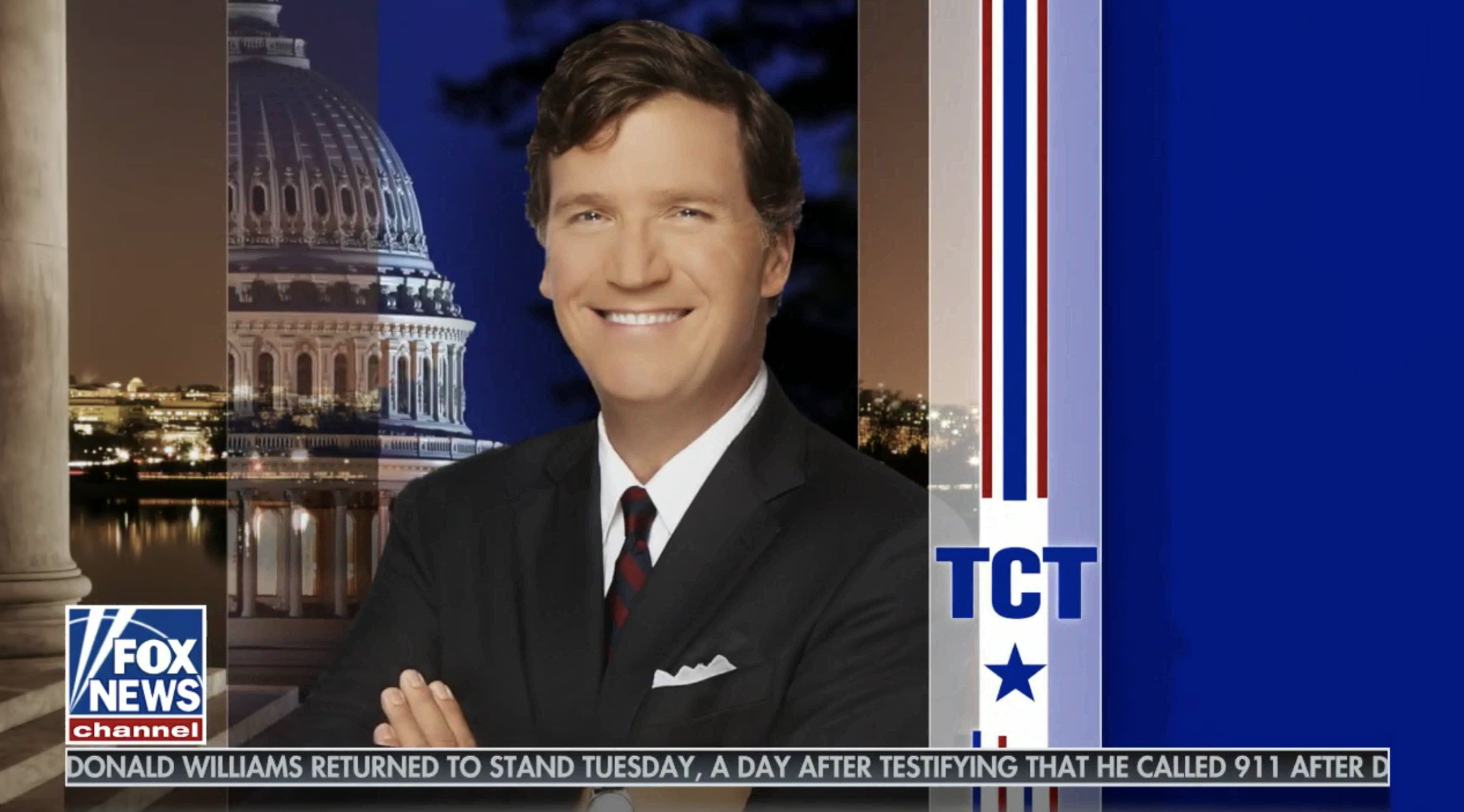 Subscribe to NewscastStudio's newsletter for the latest in broadcast design, technology and engineering delivered to your inbox.
Fox's conservative commentary channel has removed the set and all of its broadcast gear from the Maine garage that the now-fired host Tucker Carlson previously used for broadcasts, according to multiple reports.
The garage, which Carlson purchased in 2019, was stocked full of Fox property, including video panels a small full set and desk. There was also lighting, camera gear and a cache of supporting gear to get the studio signal from Woodstock, Maine, to Fox's headquarters in New York, a source told TheWrap.
The space was originally used for "Tucker Carlson Today" starting in 2021, a show the primetime host hosted on the network's Fox Nation streamer.
However, select editions of "Tucker Carlson Tonight" began originating from the space soon after, including editions that were produced remotely as part of COVID-19 precautions.
Carlson spends much of his summer at a nearby property, and he reportedly worked out a deal with Fox that would let him work remotely from the state rather than having to come into a studio owned by the network or local station for select broadcasts.
Previous reports noted that Fox paid for all the equipment, set and links between the studio and New York.
So between pics of Tucker toting around an ax, this is just tossed into this Daily Mail piece:

"An insider told DailyMail dot com that several Fox employees have already quit to join the startup."https://t.co/hsdpoa6A7A

— Justin Baragona (@justinbaragona) May 24, 2023
The Daily Mail also published photos of Carlson and others around the property, appearing to be unloading gear and other items into the space, presumably to re-outfit the space for broadcasting.
Carlson was also spotted carrying a large axe.
Despite being embroiled in a legal battle over his contract, which runs until January 2025 and that Fox is reportedly committed to paying him for, Carlson has announced intentions to return to his fans, most likely via Twitter.
A new show like that could be in violation of his contract with Fox, which reportedly contains a hefty non-compete clause.
However, Carlson's legal team reportedly is contending that Fox breached the contract first for a variety of reasons, including failing to shield private exchanges between the former host and others, including the infamous "not how white men fight" message that reportedly was the last straw for Fox management in making the call to fire him.
The text was obtained by the New York Times and was part of evidence that was gathered for the Dominion Voting Systems trial that Fox settled at the last minute for $787.5 million in April 2023.
The Telegraph also interviewed Patrick Feeney, who is identified as a construction manager, who claims that "there's no hardware in place at all. There's not even an infrastructure for a TV studio for along time."
It's not immediately clear if Feeney has experience in broadcast facilities.
It also isn't clear how long it would take to rebuild the space as a studio. In theory, assuming the correct gear is readily available on the market and the space doesn't require significant structural work, the space probably could be back up and running within a week or so — or even less.
Many network broadcasters transitioned to home studios with at least some professional grade gear in a matter of weeks or days at the start of the COVID-19 pandemic. These setups became more advanced at the outbreak wore on.
Many of these remote setups did not have a full set like Fox built for Carlson — but rather simply had hosts sit in front of large TV screens with a video feed showing a graphic or animation behind them.
If Carlson is planning to take his show to Twitter, this could require significantly less gear to broadcast, especially if it's recorded locally rather than having to link up with a control room in a remote city.
Carlson's Fox's show also largely only featured a single shot focused on him, unless he had guests on-set (which would likely be more challenging to do from Maine, given that guests would need to travel there), so a single, locked-down camera setup could likely work just fine for a streaming offering if his new show uses a similar format.
Carlson originally send his show would launch within a month of May 2023, though Feeney said he doesn't see how that would be possible from a broadcast gear standpoint.
Meanwhile, Carlson's broadcasts weren't the only ones in live cable production that originate from the host's home — "Morning Joe" co-hosts Joe Scarborough and Mika Brzezinski frequently appear on camera from their home in Florida. Sometimes they both appear from a small set the network built for them, while other times only one will be remote.
Scarborough is required in be in Florida a set number of days each year in order to qualify as an official state resident. He changed his voter registration in 2018, reportedly as a way to save on state income tax over his former home state of Connecticut. Florida has no personal income tax.
The current version of the "Morning Joe" remote studio is actually the second location MSNBC built, with a smaller setup previously installed at a different property in the state.
The latest in design, production and engineering
Subscribe to NewscastStudio for the latest delivered straight to your inbox.