VDO builds strong looks around solid elements
Subscribe to NewscastStudio's newsletter for the latest in broadcast design and engineering delivered to your inbox.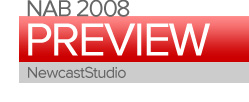 VDO has continued its trend of creating innovative graphics packages for stations of all sizes. One of VDO's strong points is the ability to create a wide range of looks. Though the firm is skilled at the sharp, 3D look that's so common in TV news graphics, the firm has also delivered clean, geometric graphics as well as fun and funky looks.
"VDO is not a singular style — it's a style that can be categorized as fresh and innovative," said Dianne Streyer, VDO's vice president and general manager. "Our philosophy at VDO is to concentrate on unique design. The design team has a pioneering spirit and likes to create unprecedented concepts and styles for our custom clients," she added.
One strong, consistent trend in VDO graphics is a solid, standout graphical element that drives the look and feel of the rest of the package.
At KVOA-TV in Tuscon, Ariz., that element is a unique red "ribbon" that is mainly used to contain titles. The unique nature of this feature is how it can be shown in a variety of angles, creating a varied look while maintaining a solid foundation. The ribbon is used as a prominent element in full screen opens and graphics, lower thirds and is also found subtly incorporated into OTSs and weather graphics.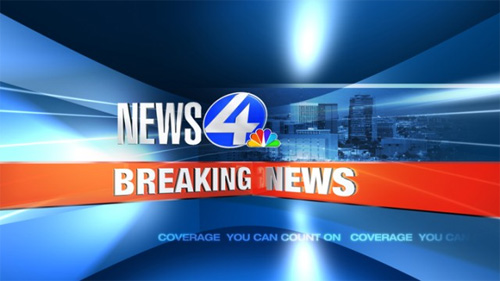 Ribbon-style elements like this seem to be becoming a trend within the motion graphics industry: a similar look is being used on the Science Channel, among other news and non-news graphics.
The package is rounded out with sleek graphics that go from rich gold hues to a refreshing shade of blue. The animations are also stocked with light and shiny accents and curved background elements that create a great sense of depth.
This year, Streyer says one of the firm's most innovative projects was at the CBS-owned duopoly in Los Angeles. Here, VDO tightly integrated an eye-catching graphical theme of 3D rings rendered in sleek silver that draw cues from KCBS-TV and KCAL-TV's two circular logos.
Using multiple rings adds layers of visual interest and provides a great transitional element. For more subtle applications, narrower rings are used in a more sparingly method. Building off the ring theme, the package is anchored by a unique background combination of rich blues, golds, purples and reds that creates an active, vibrant feel.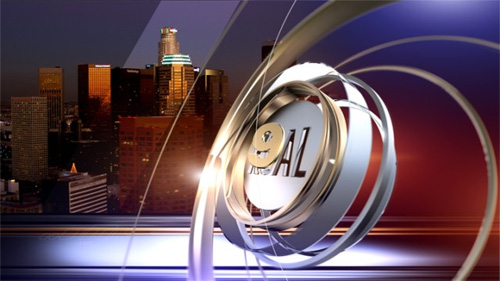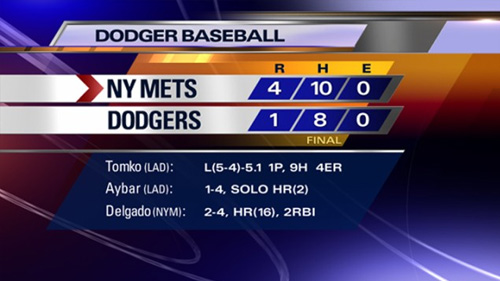 "The design is visually arresting. Our clients, Marshall Hites, vice president of creative services, and Otto Petersen, design director, allowed us to really flex our creative muscle on this one. We also had the desire and opportunity to really push the Vizrt to the limits." said Streyer.
In sharp contrast to the curved rings, another prominent element of the KCBS-TV/KCAL-TV package is the use of angled trapezoids as video holes. The angled look also finds its way into the OTSs and sports scoreboards.
VDO also created 2008 election graphics for KCBS-TV/KCAL-TV that takes its cues from the main package. Replacing the rings are a sleek 3D star, while rich reds and blues also tie in nicely. The trapezoid design element is also featured prominently, mainly as a container for data.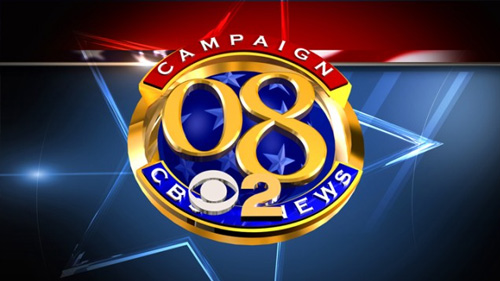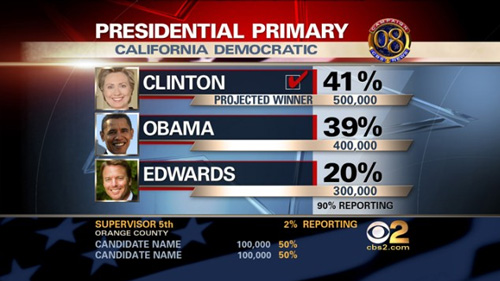 At KXTV-TV in Sacramento, Calif., VDO was able to shed the traditional blues in favor of warm golds, reds and oranges. In contrast with the station's sans-serif logotype and sharp arrow graphical underline, the graphics package incorporates gentle curves that create variety.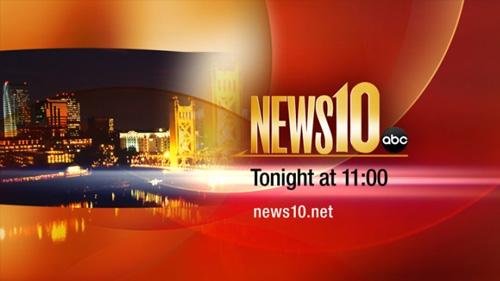 The arch elements continue throughout the package, including semi-transparent applications layered over video footage. Further continuing the curved theme, the station's Web URL seems to float throughout the package, appearing in a uniquely curved path. Plenty of blurred lines with sparse straight edges boost the package's friendly, warm feel.
VDO continued to diversify its portfolio with the modern package created for WBZ-TV.
As one of the CBS O&Os that does not use the CBS mandate, WBZ has instead opted for a highly geometric, modern look somewhat reminiscent of VDO's design for WGCL-TV in Atlanta when the station was branded as "Clear News."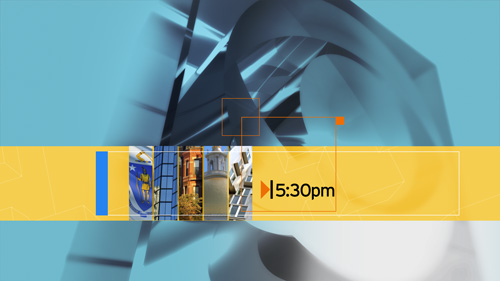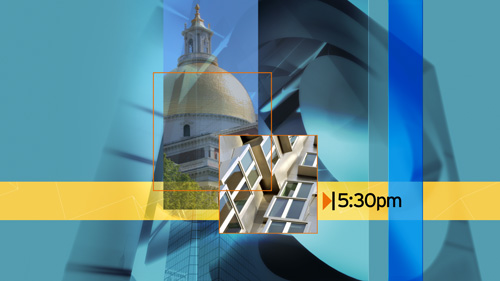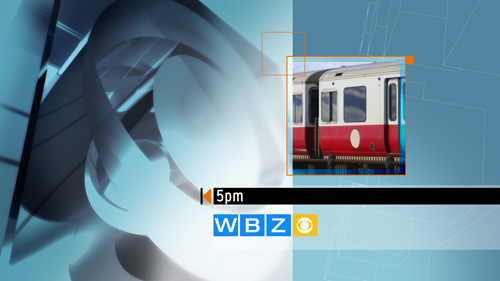 Fresh light blues seem reminiscent of the CBS mandate color scheme, but the addition of bright orange and yellow accents gives creates a unique look. Clean lines throughout the package is based mainly on square and rectangular shapes with an occasional triangular element. Offsetting these clean lines is an animated CBS eye rendered in a style that is subtle enough to tie into the package while still adding a 3D element.
Another clean and modern design from VDO can be found a bit south from Boston — Ft. Meyers, Fla. This package, for NBC affiliate WBBH-TV, brings VDO's designs full circle by combing sharp straight shapes with some of the more traditional looks found in more mainstream graphics, as well as a generous serving of scenic footage.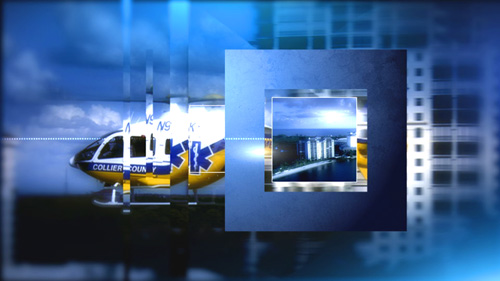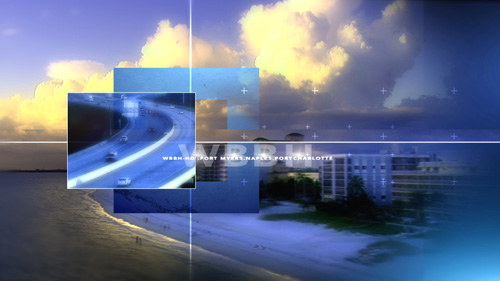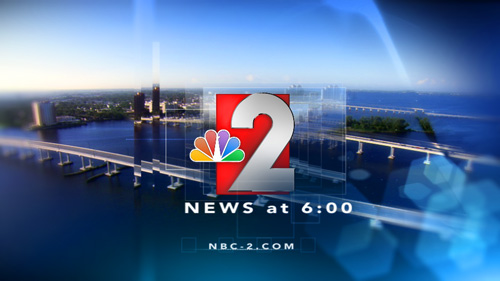 Also prominent in this package the sharp contrasts between light and dark areas. Some portions of the graphics reach into the dark blue and even black range, which highlights bright, sharp blues and whites as well as crisp boxes that add visual interest and anchor points for text, video and imagery. A fresh gold hue is used as an accent, mainly in the opening frames of the newscast intros, while a deep red provides the framework for additional design elements.
VDO creates its designs using a wide array of software. According to Streyer, Softimage, 3DS Max, After Effects, Photoshop, Illustrator and Vizrt Artist.
But there's more to what the firm does than just design.
"Our clients have entered the realm of more practical demands: the design must be visually compelling in both HD and SD. We encourage clients to ask questions on top of questions. The result will be the client getting all the new information they need to launch a successful HD/SD on-air look," said Streyer.