Firm packs sets full of 'Inergi'
Subscribe to NewscastStudio's newsletter for the latest in broadcast design and engineering delivered to your inbox.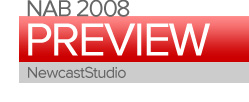 Though one of the smaller set design firms, Inergi's portfolio offers a broad and varied sample of set design.

Its work at KERO-TV in Bakersfield, Calif., makes uses of gentle curves and broad printed backgrounds to create a cost-effective solution that packs a high-tech look. The set combines an eye-catching shade of blue with rich wood tones to create a traditional yet contemporary feel.
The curved elements continue at Inergi's set at WHNT-TV in Huntsville, Ala., including a unique camera center background that frames the station's "10" logo. The set's monitor wall includes a gentle implementation of the curve as does the multi-tiered headers. The studio environment is finished by bold blue walls and metal trusswork. The anchor desk, which sit upon a riser with vent-like accents incorporates a unique curved shape is fronted by a square logo panel.

At WAFB-TV in Baton Rogue, La., Inergi created a studio set that uses the station's newsroom as a background. Wide wood columns complement blue toned walls and a uniquely-flared anchor desk. This compact set also includes a standup area with plasma screen and working weather office.

Another Inergi-designed weather center can be found at WSFA-TV in Montgomery, Ala. Built around a working presentation pod, the set is stocked with multiple monitors and workspaces. A free-floating header showcases the station's weather branding.