2009's best set designs
2009 was a challenging year for the television news business and it's no question that was reflected in the set design industry.
Combined with the bad economy and end of the first wave of HD newscast conversions, there were significantly less sets going in around the country.
News managers had a tough time justifying a $100,000-plus expense when staff was being slashed and revenue down.
There were also less stations making the switch to HD, a trend that was also fueled, in part, by the bad economy since station owners weren't as willing to shell out the money needed for a full HD conversion — especially with many in the industry questioning the value of producing news in HD. Plus, most of the top markets had made or were wrapping up unveiling HD news by 2009.
The set work that did debut in 2009 was, for the most part, on a much smaller scale. Some large sets did debut, but many of these were fueled by a move to a new facility — making them more of a necessity rather than a luxury. 2009 also saw many refresh set projects, with old sets being given a second life.
You can read more about the future of the TV news creative industry in a post from August.
It was honestly rather difficult to find even three sets that were worthy of a "best of" title, but nonetheless we present the 2009 NewscastStudio Best Sets of the Year honors.
WPBF-TV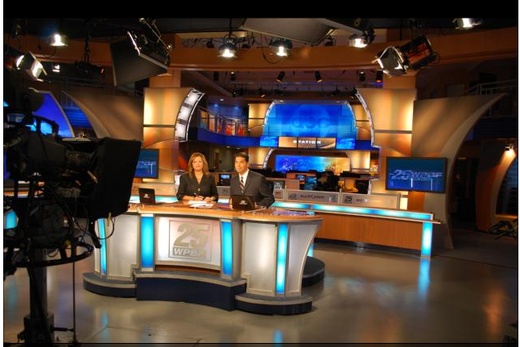 Hearst Television's WPBF-TV got a revamped newsroom set in September from FX Group and the design was a breakthrough look for both the station and design firm.
The set's impressive arches provide a nice visual separation from the newsroom and studio area as well as a frame out the back wall's balcony. Backlit elements and floating transparent panels add an additional visual element.
Click here to see the full WPBF-TV gallery on NewscastStudio.
KTLA-TV

The new set at KTLA-TV in Los Angeles is a great example that great sets can still be simple and clean.
Broadcast Design International's design incorporates an interesting combination of straight lines, angles and curved elements to create a look that's contemporary and fresh.
Another nice element of this set is the header elements above the camera center rear projection screen. These square-shaped units add yet another modern touch to the set and provide some interesting lighting effects.
Click here to read our blog post on the debut to see more images.
Fox Business Network Studio G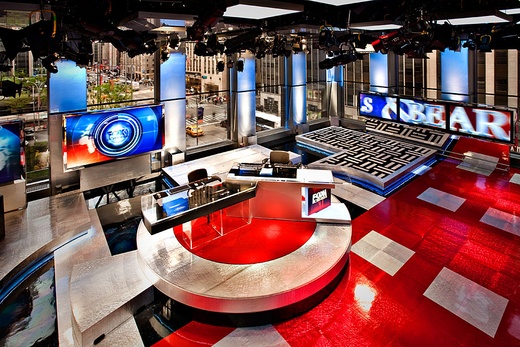 Fox Business Network's impressive new studio includes a bold, eye-catching set that, while it may be a bit over the top for some, certainly deserves a place on this list for its willingness to take risks.
The studio combines modern furnishings, high-tech monitors and stunning lighting effects on the exposed structural walls. Geometric patterns in the carpeting adds another layer of interest while sofas and chairs lend a bit of playfulness to what could otherwise be a very cold, sterile feeling room.
The set, from Clickspring, also benefits from its own "natural" background: the sweeping views of downtown Manhattan afforded from this former rooftop vantage point.
For more pictures, click here to view the full image selection.
Share your thoughts
What do you think of 2009 in set design? Do you agree with our picks?
We're offering a few ways to interact.
What's your top pick?
First, you can vote and tell us which of our top three selections is the best set of the year. We'll tally the totals and provide an update rank in a week or so.
Share your thoughts
You can also post comments on this post letting us know if you agree with our picks or if there are other sets that might be added to the list (if we agree, we'll add it to the list). Also, you can Twitter us and let us know who's best.