CNN readying for Atlanta in HD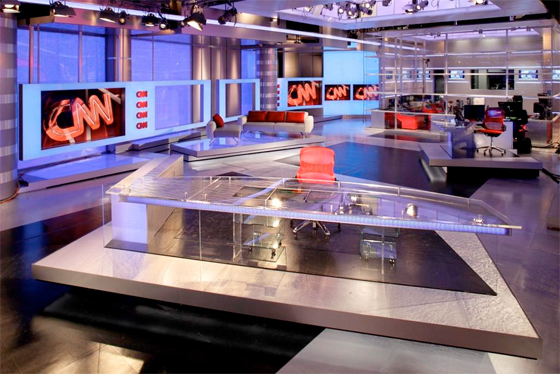 Via TV Technology, CNN is putting the final touches on its new Atlanta studios.
Continue reading for some stats and facts about the new studio, part of CNN's HD changeover. The entire network should be completely HD by fall.
According to the official count, the new studio is 5,000 square feet (versus its 1,500-foot predecessor). Its mandate is flexibility in regard to different angles, shots and looks for each of the shows, according to Holcombe.

To this end, the studio includes a 270-degree rotating anchor desk, multiple set locations, a weather center with a perceptive pixel touch screen-generated "magic wall," and more than 50 HD monitors.
Included in the roster of monitors are three 103-inch HD plasma screens: one is mounted on a wall, overlaid with touchscreen capabilities; the other two are mounted on motorized tracks that run above them.

The stage crew can also completely remove the desk for special events.

More than two miles of LED lighting on the floors and in the walls enable production staff to change graphics depending on the show or news environments.
They can be grouped in different zones to compose contiguous animation across the studio.