Chyron rolls out AXIS upgrades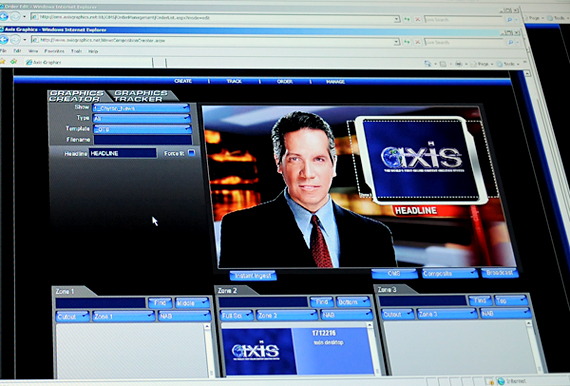 Chyron's AXIS graphics system has rolled out a host of new features for 2010 at NAB. Continue reading to learn about the new features and updates. Update: Video added.
Video support for track: AXIS track is the hosted asset management system for graphics and now video. Users can store video assets along with stills securely in the cloud providing the ultimate in content sharing within a facility and across an enterprise. track provides fast search and retrieval of all stored assets such as AXIS maps, charts, weather animations and, new for the show, pre-built packages from major news providers, further enhancing the value offered to users. track not only provides utility during daily use, it also provides stations and enterprise users a cost effective backup and recovery solution for stills and video.
Enhanced FORscene Integration: Users of FORscene, a unique hosted video editing solution, now have the ability to search and view FORscene edited projects directly within track. Edits in progress are immediately available for collaboration, review, logging and distribution through the use of an internet connection and a web browser.
Statistical Reporting: Incorporating organization-wide usage and storage statistics, this new feature allows users to analyze the efficiency of their graphics workflow. Statistical reports will bring business intelligence and resource monitoring to broadcast graphics, something that was never before possible.
Flash Video: AXIS now natively supports flash video. Users can now render web-friendly animations directly from AXIS. This integration makes creating digital media, including web ads, simple.
order: This service allows production and sales personnel to order content from the graphics department and track the order to completion.
To learn more about AXIS visit: http://axisgraphics.tv/