CNBC uses Cisco TelePresence for some 'talking heads'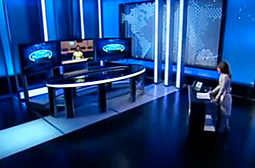 CNBC is now using Cisco's TelePresence technology for some talking head interviews on various shows.
AdAge writes, "Cisco is not paying CNBC to use TelePresence screens on air, according to CNBC and NBC Universal executives; CNBC is actually leasing the equipment for its editorial and technology operations teams."
MSNBC also uses TelePresence with "The Rachel Maddow Show."
Using of this technology is similar to the use of Skype for interviews. They display the logo so viewers know it's using a different technology than normal, but in many cases viewers won't notice because of the quality of TelePresence video.
Is this a good move by CNBC? Maybe, as satellite time can be expensive, but it also comes off as advertising for Cisco.