'World News' debuts sleek new home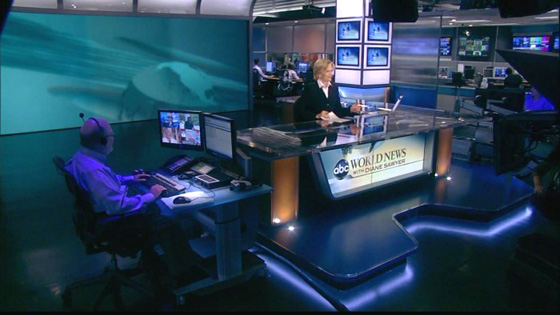 ABC New's "World News" has debuted a new set by Jack Morton.
The new set creates more intimate shots between anchor Diane Sawyer and on-set reporters, a pivotal element that Sawyer brought to the newscast, as creates a lighter, more airy feel.
The new set begins with the desk, shaped as an L, which allows better interaction shots and more reporters on set. In use, this new desk works very similar to the one found across town at "NBC Nightly News." The desk's front now features a mini-video wall similar to those found at NBC and on the "CBS Evening News," though this one does not appear to be as seamless as those sets'.
TVNewser writes, "With the network looking ahead to this year's mid-term political coverage, the new desk can support two anchors and four correspondents for special events."
Also accenting the anchor desk are dramatically up-lit wood panels and a uniquely-shaped riser with built-in lighting.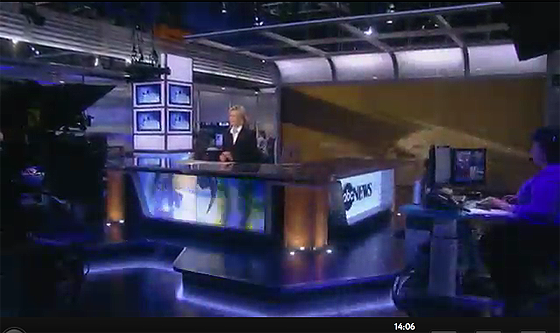 The set retains a large rear projection screen that now reaches all the way to the floor. Above the screen is a curved backlit section that flows an open grid structure suspended from the ceiling.
The set also adds a great deal of frosted glass and backlit elements somewhat reminiscent of the MSNBC studio, including two  square-shaped pillars with LCD screens mounted on them.
The main news desk also has two smaller producer locations on either side. These producer stations make use of what appear to be portable desks and seem to be a bit of an afterthought and randomly placed.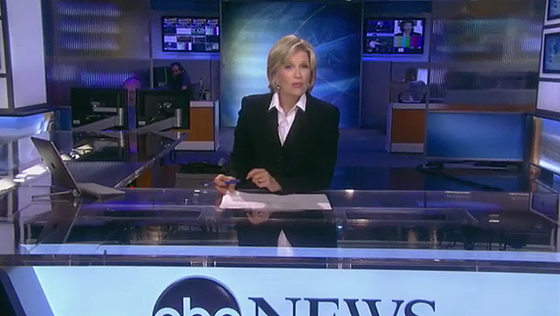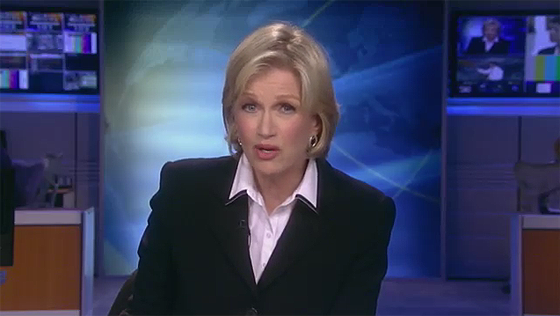 One interesting feature of the new set is a square-shaped graphic behind Sawyer off to the newsroom side of the set. It looks very out of place, especially with the wide opening left by the workstations on either side.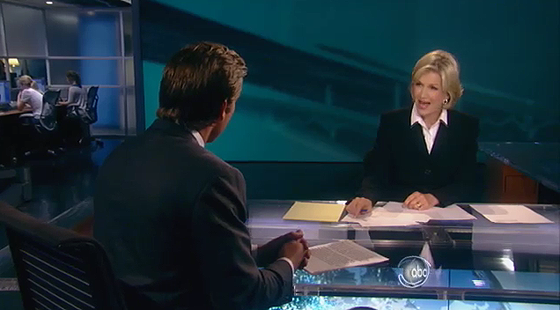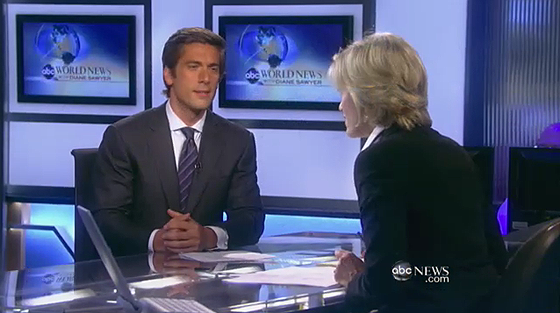 Overall, the new set works well to create many new interaction shots and allows for more conversation between Diane and the other reporters. The sleek look of the set matches the modern graphics and help create a cohesive look for ABC News. It will be interesting to see how ABC News Now utilizes this set, if at all.
Regarding the budget, this set was said to have been done "economically," but little was kept from the previous set. We have to wonder how much this set really cost as it has numerous pricey features. ABC possibly could have saved some money by reusing the projector from the previous set.
The new set also stands out fairly well amongst the other evening newscasts — CBS's look is more warm and colorful while NBC sticks more to dark, sophisticated wood tones.
The latest in design, production and engineering
Subscribe to NewscastStudio for the latest delivered straight to your inbox.