Chicago NBC affiliate plans makeover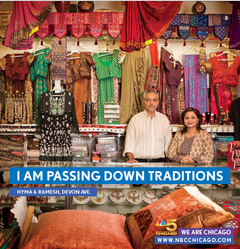 The Chicago Sun-Times is reporting that WMAQ-TV, the NBC O&O station in Chicago is beginning roll out the first stages of a makeover that will touch nearly every aspect of the station's news operations.
New promotional materials have already been spotted at bus shelters and on the station itself, mainly touting the station's local community connections. In addition, 10 p.m. anchors Allison Rosati and Rob Stafford are spotlighted heavily. The two concepts are tied together with the phrase "we are Chicago."
"WBBM (the city's CBS affiliate) is starting to aggressively market itself, and we want to remain competitive," Jay Wadhwa, the WMAQ brand manager orchestrating the new marketing campaign, told the Sun-Times.