Detroit station gives Google+ a spin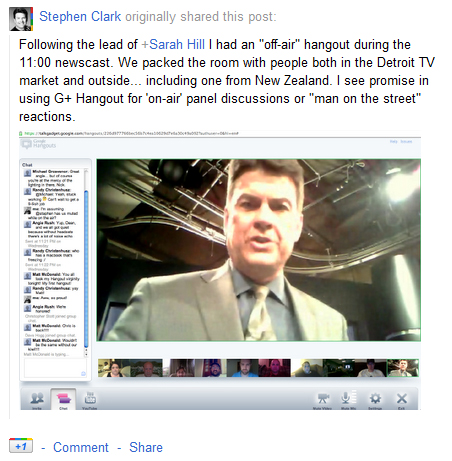 Stephen Clark, the "interactive news anchor" at ABC affiliate WXYZ-TV in Detroit, gave Google+ a try, giving viewers an opportunity to join him in a Hangout.
Clark also commented on opportunities Google+ Hangouts could offer — including panel discussions and "man on the street" segments.
In announcing the experiment on (where else) is Google+ page, Clark credits the idea to KOMU-TV's Sarah Hill. The Mid-Missouri station is believed to be the first station in the country to use Google+ as part of its live newscasts.
One of the major barriers for stations making use of Google+ Hangouts is the lack of support for more than 10 participants, as well as the fact that Google still officially prefers businesses and brands to not create Google+ accounts (though many have).