CNN.com upgrades video page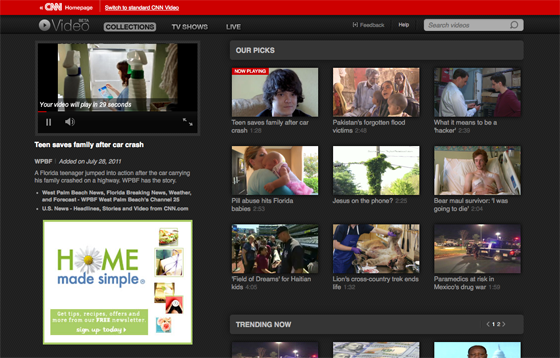 First announced at SXSW, CNN's new video page launched recently.
With CNN concentrating on HD production, the page focuses on HD. On first visit, the page shows many videos including picks by staff and trending videos. Once you begin to watch a video, you can make the player enlarge. In the large player view, you can also scroll to the right or left to discover other interesting and related videos.
The player was called a "quantum leap" by  KC Estenson, SVP and GM of CNN.com. He also expects the video player and page to be available on internet enabled TV's soon.
Overall, the new video page is a leap forward over the previous page. It also deviates from CNN's white background theme. MSNBC still wins though on finding content, with its video player breaking down content by topic and show for easy navigation. CNN allows you to browse by show, but instead of a simple menu, you have to scroll through a long page of shows to find the one you're after.