Vizrt to showcase newest upgrades during NAB in Las Vegas
Subscribe to NewscastStudio for the latest news, project case studies and product announcements in broadcast technology, creative design and engineering delivered to your inbox.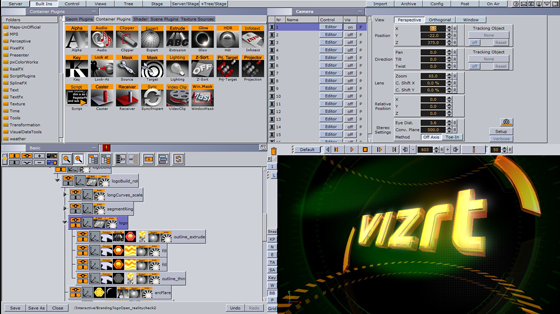 At NAB 2012, Vizrt, will showcase its latest advances in live graphics, channel branding, video editing, interactive content, multi-platform distribution, live sports and graphics analysis. Vizrt will exhibit in Booth SL5605 during the NAB 2012 convention, being held from April 14-19th at the Las Vegas Convention Center.
 What's next for Vizrt
Get a glimpse of what the future of Vizrt has to offer at the What's Next stand. Vizrt will show the latest innovations in newsroom content timing, IP streaming video output plus much more. Vizrt will also demonstrate the Viz Media Engine integration with Adobe Premiere allowing users to search and access video content directly in Premiere. Users will also be allowed to edit and overlay Vizrt graphics directly in the Premiere timeline.
The timing of video and graphics in the newsroom just got easier with innovations in Viz Content Pilot. Users can also transcode real-time content with graphics embedded and adjusted for any mobile device type using device adapted graphics.
Vizrt's real-time 3D rendering platform, Viz Engine can be expanded now to give live video input, multiple channel playout, DVE effects, vision mixer, internal chroma keying, and real-time compositing of videos and graphics making the Viz Engine truly a TV in a box.
Live Graphics Production
The latest version of Viz Trio, the world's number one character generator (CG) and template graphics system, now has enhanced video content management support with the integration to Viz Media Engine. Retrieve HD video content and add videos as part of your Viz Trio graphics workflow.
Viz Content Pilot, Vizrt's core graphics and video content solution, is now fully integrated with the Viz Media Engine video production solution. Journalists in the newsroom can search videos assets and edit videos directly from their desktops and build a newsroom playlist containing both graphics and video elements.
The Viz Virtual Studio is always a major part of NAB for Vizrt. This year we will show you how to engage the audience at home by letting them be part of your live newscast, triggering real-time rendered graphics from iPads with a second screen app. The Vizrt public show will run every half hour and will include on-air talent using the latest multi-touch screens, iPads, immersive graphics and real-time rendered content to tell a story with the most compelling tools around.
From Acquisition to Device-Adapted Video
Serving as the core of Vizrt's multiplatform video distribution architecture is the Viz Media Engine – the central point for complete control over all assets – metadata, playlists, archive and storage. The Viz Media Engine is a digital management solution that includes tools to manage the entire multi-platform distribution process – from ingestion, transcoding and publishing content that's automatically adapted for playout on TV, web, phones or other handheld devices.
"By covering the entire workflow – from camera ingest to final play-out on TV, web, and mobile devices, our Viz Media Engine covers broadcast, mobile and web in one workflow," explained Petter Ole Jakobsen, CTO of Vizrt. "A complete video platform approach delivers dramatic benefits in terms of speed, quality and volume of video production. It can also be used with other archive systems without any manual file management required."
Also in the booth will be the latest version of Viz Reporter for the iPhone, enabling live news gathering from the field. Viz Reporter is a fully integrated solution, from video recording on the mobile phone, live streaming directly from the phone, and playback on the back-end server. Videos can be edited, embedded with metadata and geo-tagged.
3D Sports Analysis
LiberoVision, fully acquired by Vizrt, will demonstrate the latest innovations in 3D sports analysis at Vizrt's stand at NAB. LiberoVision sports analysis tools are now integrated into Vizrt's general graphics and video workflow
The newest version of LiberoVision's Libero Highlight 4.5, includes the ability to embed virtual advertisements onto the live programming, iPad-enabled control of the LiberoVision annotator, 3D arrows, detection of camera angles used in American football, faster video processing, and a simplified user interface.
Multichannel play-out and channel branding
With Viz Multichannel, broadcasters can insert commercials on multiple channels in a fully automated way. It combines pre-scheduled, timecode-based playlist operations with the possibility of adding real-time 2D and 3D graphic effects and powerful branding capabilities. It centralizes the entire workflow onto one desktop.
The newest version of Viz Multichannel will feature improved integration with Viz Trio, including new features such as multi-playlist support, faster playlist loading, integration with Viz Media Engine, support for timeline editors, and for setting up an external preview channel.
Over the top TV & and content distribution to all platforms
With Vimond Media Solutions' integration with the Viz Media Engine and Escenic Content Engine, users now get a complete online video platform handling live streaming from mobiles, editors' ingest, insertion of graphics and advertisements, automatic transcoding, and multiplatform content distribution, in addition to a full range of monetization VoD functionality, DRM adaption for multiple platforms, advanced geoblocking, reporting and business intelligence, and over-the-top (OTT) functionality.
Subscribe to NewscastStudio for the latest news, project case studies and product announcements in broadcast technology, creative design and engineering delivered to your inbox.