How Google's new 'knowledge graph' could affect journalists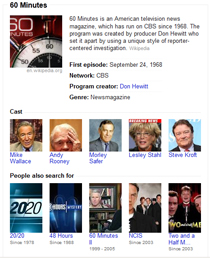 Poynter's Julie Moos has an interesting story on the effects Google's new "knowledge graph" addition to search results could have on journalists and news organizations.
Moos experimented by searching for various news organizations and found that, in general, individual people were more often emphasized in the "knowledge graph panels" that appear on the side of the regular search results. She points out this could be a signal that Google is emphasizing people rather than organizations.
In addition, Moos found that the panels themselves were self contained and able to provide a good deal of information without ever having to leave Google's site. This could have an effect on news website traffic, she points out.
Finally, Moos identifies a drawback of the panels — they often draw content from Wikipedia, which can, in turn, cause inaccurate information to appear.