It's a garish new day for 'Daybreak'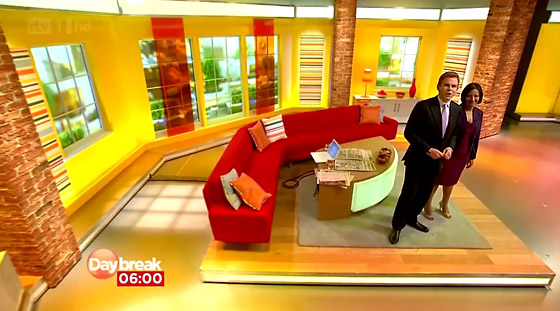 ITV's morning program "Daybreak" debuted a revamped look Monday.
The changes are numerous, including new hosts, new set, graphics and music.
The most noticeable change fore viewers is the set, designed by BDA Creative. Formerly with a view of London, the new set is a very brite and quite bland.
Viewers have been quick to react to the changes:
"Looks like something from 1950's, yellow wallpaper and striples… Ew."
"The new #daybreak is basically a lower-budget BBC Breakfast, face it."
"I preferred it as it was with Dan and Kate, even preferred the old set, I feel like I need sunglasses to watch?"
The new set is located in Studio 3 at The London Studios, the same studio sister program "Lorraine" tapes in. "Lorraine" shares a similar set design and some of the same talent, airing directly after "Daybreak."
The previous home was state-of-the-art Studio 7, which has panoramic views of London's skyline. The previous set was very modern, with backlit elements, many large monitor walls and other markers of a modern studio.
So far, viewers see the new set design as a major downgrade.
For a newscast trying something different to find ratings, similar to "CBS This Morning," this attempt failed… miserably.
As some have noted, the set is garish with too much yellow and too much of nothing. The set lacks the polished look of the previous one and seems too homely, like someone's grandmothers house.
The new graphics for the program work, very well compared to the set. The graphics use the orb and run with it, having rings move around it.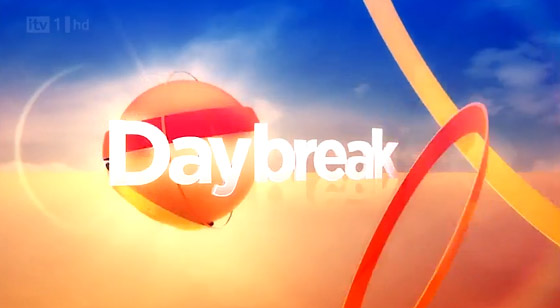 The graphics are more complicated than the previous, but it works.
Musically, the show is wanting a feel similar to a real news program… except the program covers more lifestyle stories than news.
This makeover should serve as a cautionary tale for television stations. Just because ratings are low, doesn't mean everything has to change.
In this case, much of the change has failed, leaving viewers blinded by yellow and quite furious on social media.
But, this is standard operating procedure for "Daybreak," a show that has been under constant change since it first aired in 2010. It seems with each debut, they're planning the next new set and talent change.