Milwaukee NBC debuts new contemporary set from Devlin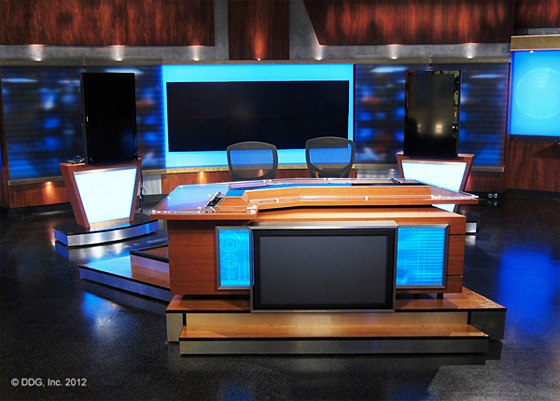 WTMJ-TV, "Today's TMJ4," took the wraps off its new set over the weekend.
The new set was designed by Devlin Design Group and provides a mix of technology and traditional elements.
"We designed the news set to be a mix of contemporary and traditional elements using rich, warm wood tones combined with sleek contemporary metal finishes mixed with state of the art technology and contrasted by bright back-lit, color changing acrylics to create a high-tech yet classy feel to the set," said Kartik Dakshinamoorthy, scenic design director with Devlin Design Group.
One unique feature of the set is a movable anchor desk that can be positioned in front of the main anchor area as well as the weather center.
In addition to the 2 by 3 flat panel array camera center, the main anchor area includes a color changing LED wall framed by blurred monitor wall backgrounds. Two mobile vertical flat screen carts can be used for OTS elements on either side of the set.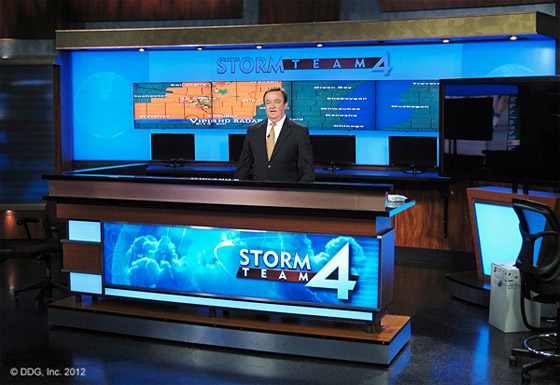 An additional strip of flat panels is found in the weather center, which also includes color changing elements and workspaces.
"Our new set is fantastic. DDG was able to make great use of our existing space and create something contemporary, but still warm, for both our news programs and our local talk show," said Gregg Schraufnagel, creative services director at WTMJ-TV. "The bar is now set very high in the Milwaukee market."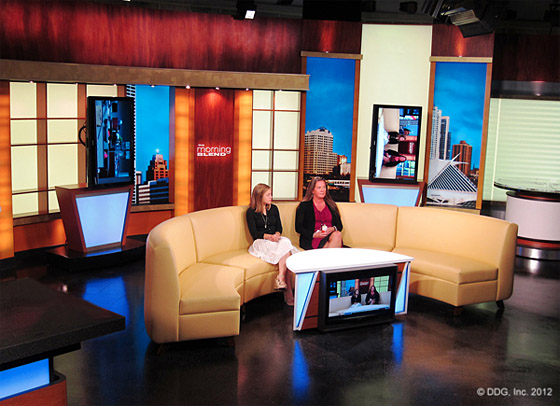 The station's "Morning Blend" program also got a new home as part of the makeover.
The show's sofa set includes backlit paneling, cityscape views and also makes use of the mobile monitor carts from the anchor area.
"The new 'Morning Blend' set  is infused with warm copper metals and rich cherry wood, both of which enhance the warm tones of the set and create a homier feel. These same finishes are reflected in the main news set which ties them both together however, the main news set has a completely different, more modern high tech look," said a DDG release.
Interchangeable graphic panels and LED lighting makes a variety of different looks possible for the show. The show also has a complete lineup of demonstration tables, including one with a GE Profile "Clean Design" cooktop.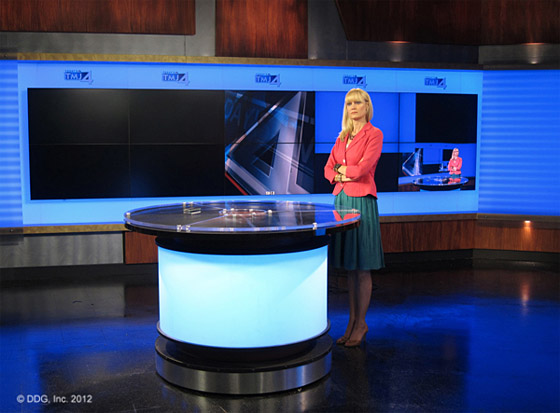 "Morning Blend" also makes use of a area in front of a 2 by 5 monitor array.
A large round table with backlit base can be used for demonstrations or discussion and the entire area can also be used for in studio performances. A mobile riser can be used to transform the area into an interview set, and the video wall is also designed to be incorporated into the news set as a standup area.
The lighting for the set uses the new Brightline BL.16 fixture heavily throughout.
"Lighting the set for WTMJ-TV was fun, both because we got to work with lighting director Bruce Aleksander and because the plan incorporates many of the brand new BL.16 fixtures from Brightline," said Hannes Kling, director of production for DDG. "WTMJ-TV is only the second station to incorporate Brightline's new BL.16 lighting fixture. This high output LED fixture offers many beam and accessory options, allowing designers ultimate control, while requiring very little power and generating little heat."
NewscastStudio will have a complete gallery of this new project soon.
Images courtesy of Devlin Design Group. For more information, visit its blog entry on the project.