PAC-12 Network launches with help of AKA Creative Group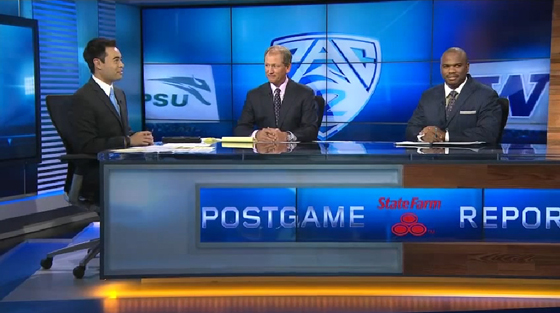 On August 15, 2012 at 6pm Pac-12 Network went live across North America from its headquarters in San Francisco.
Providing unprecedented collegiate sports coverage, one national network and six regional networks will air content devoted solely to the Pac-12 teams with more live sports, more national championships, and more digital innovations to connect Pac-12 fans to their favorite teams everywhere.
Canadian based AKA Creative Group transformed the networks blank studio into a content hub for the launch of the  network.

AKA designed the new studios for the PAC-12 with the surrounding geography and landscape in mind. They referenced natural stone, dimensional textures, natural materials in their raw state and went as far as incorporating reclaimed California redwood. This all helps to reinforce a sense of place and ownership for channel and conference at large.
"More than just a television studio, we wanted to design a really sexy and cool architectural environment. This was going to be the first face of a brand new channel," said Kyle Sanvictores, creative director at AKA. "We wanted that statement to be bold and different from every other sports channel out there. We really strove to capture the East Coast vibe: outdoor lifestyle, the connectedness to the landscape and the quality of light are all so unique to this region".
Coupled with these tactile materials AKA also worked to integrate the latest technology into the set. "This region is truly a technology hub in North America we could not ignore the use of cool toys in a space like this".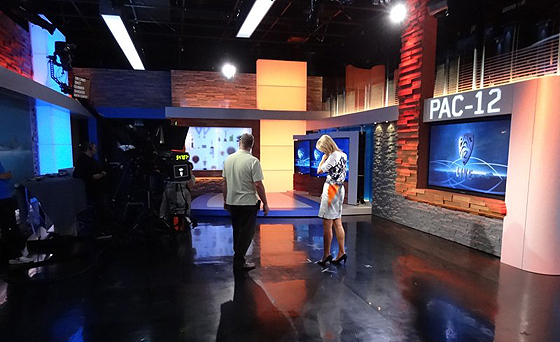 The expansive GPOUS monitor wall provides the main backdrop for the anchor desk with smaller monitors along the front of the desk and around the studio providing alternative functional and flexible shooting positions.
Lit exclusively with LED light, the set can transform with the touch of a button.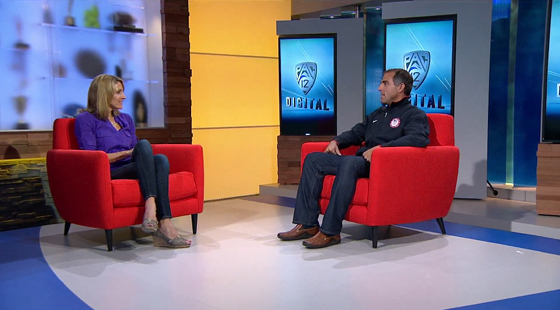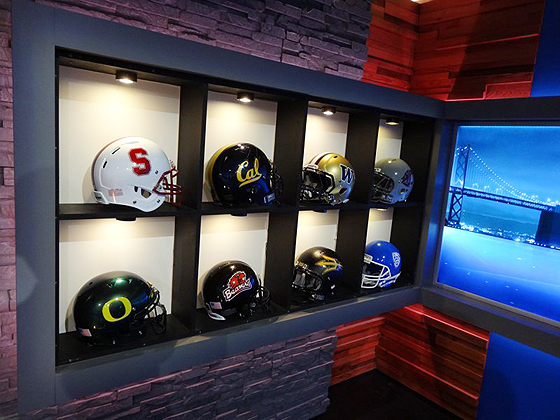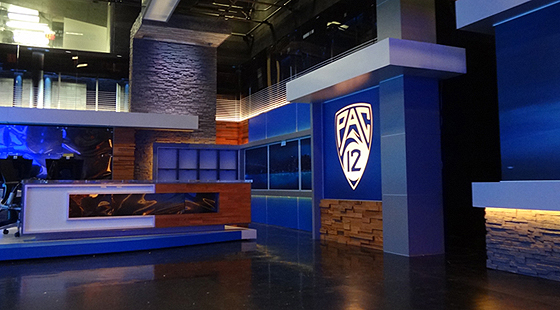 AKA worked closely with the brand imagery and core principles of the conference to provide a cohesive visual impact for the history making launch of the channel.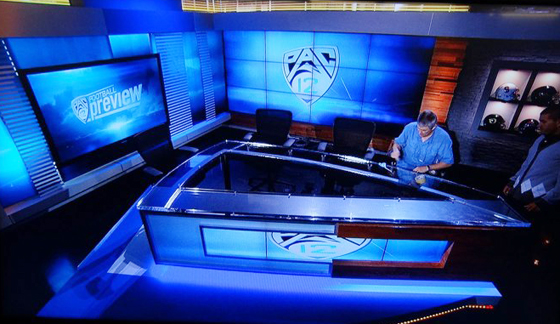 "The shape of the desk was inspired by the PAC 12 shield. It wasn't a literal reproduction. We believe that subtle nuances like this give the set a level of design sophistication that the viewers are looking for."
A complete gallery of images of the new studio can be found on SetStudio.
The latest in design, production and engineering
Subscribe to NewscastStudio for the latest delivered straight to your inbox.