Salt Lake City NBC moves away from 'traditional local news feel'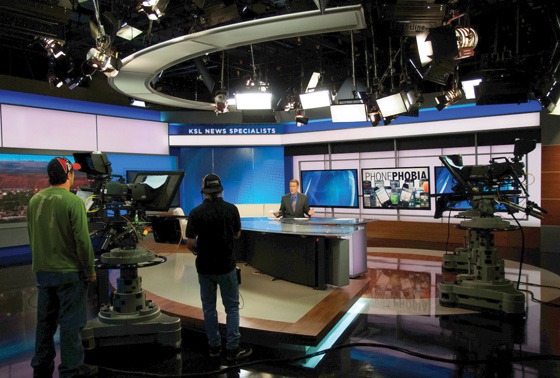 With the help of Broadcast Design International, KSL-TV recently debuted a sleek set in Salt Lake City.
"We did not want to go with a traditional local news feel," said Tanya Vea, executive vice-president for news, in a KSL-TV story. "We think we're bigger than that. We think we're better than that."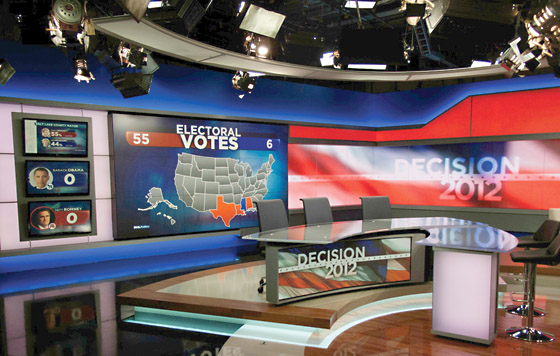 "KSL wanted to break away from a more traditional local news cast and have the versatility to have multiple looks all within one studio and not separate smaller venues," said  George Edelman of BDI. "An asymmetrical design was created as we worked with Scott Jones the Production Services Director and his team of talented graphic and engineering staff to finally achieve their goal."
The new environment has the feel of a network newscast, something KSL-TV was aiming for in the change.
The set includes 75 low resolution LED panels, a 3×3 60″ plasma array and two 42″ displays on the desk.
"We complemented the video with RGB light boxes that gives KSL the ability to change the overall feel of the set with color as well," said Edelman. "They now have multiple weather, sports and special reports area's to bring stories to the viewers all with various video sources."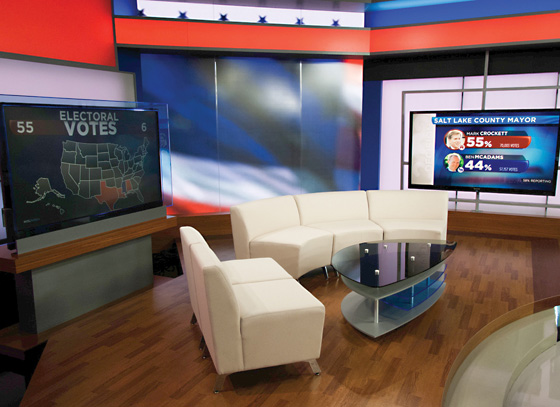 An interview area is located to camera right, with a plush couch and multiple presentation points.
"Another challenge was to integrate an interview area that could also convert into a weekend sports program as well," said Edelman. "We all are pleased with the results and glad to see how well this worked with a client committed to working with us to achieve their goal."
Besides the immersive backdrop, the other key feature is the desk.
Built as V, the desk can easily seat 5 anchors and reporters, making it great for interviews. The setup is similar to MSNBC Studio 3K. The layout allows the desk to have multiple backgrounds, adding variety to different broadcasts.
The design moves the industry forward, towards a Euro set design approach, emphasizing less is more.
This set shows duratrans can be a thing of the past, with backgrounds that can change based on the show and topic. Mixing metal, glass and wood, this set is a sleek addition to Salt Lake City and a contender for local set of the year.
A full gallery can be found in SetStudio.