'Today' bids farewell to set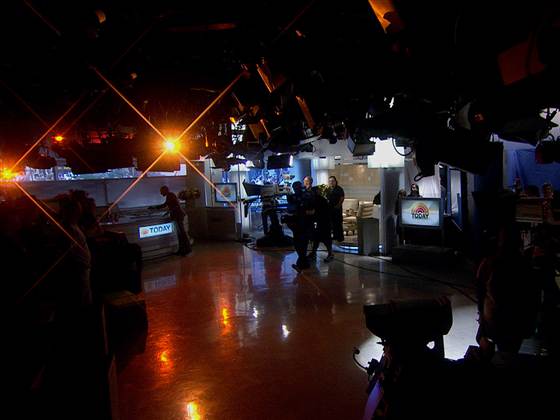 "Today" show anchors spent some time this morning saying goodbye to the current Studio 1A set.
[field name=iframe]
The segment used graphics inspired by blueprints using animated outlines of the studio elements, as shown in the video clip above.
Matt Lauer, Savannah Guthrie, Natalie Morales and Al Roker then took viewers for a quick spin around the studio, showing off the home base, interview set, sofa set and production area. Not included in the tour was the upper studio, which includes the show's kitchen set.
"I think she's served us well," said Lauer at the end of the segment, also noting that some pieces of the current set will become part of the collection at the Newseum in Washington, D.C.
The show ended with a champagne toast as the anchors exited the studio and the lights faded down as seen in the image above.
The show perhaps could have done a better job explaining what was happening to the general public. Shortly after the segment aired, some viewers took to social media expressing confusion or disappointment that the show was leaving its Rockefeller Center "window on the world" location. Some even linked the change to what they viewed as the impending demise of NBC.
Here at NewscastStudio, we noted our website has also been hit with a spike in traffic from people searching for information about the studio's future.
Watch for the new Studio 1A to debut in a few weeks.