NY1 website offers new look, stream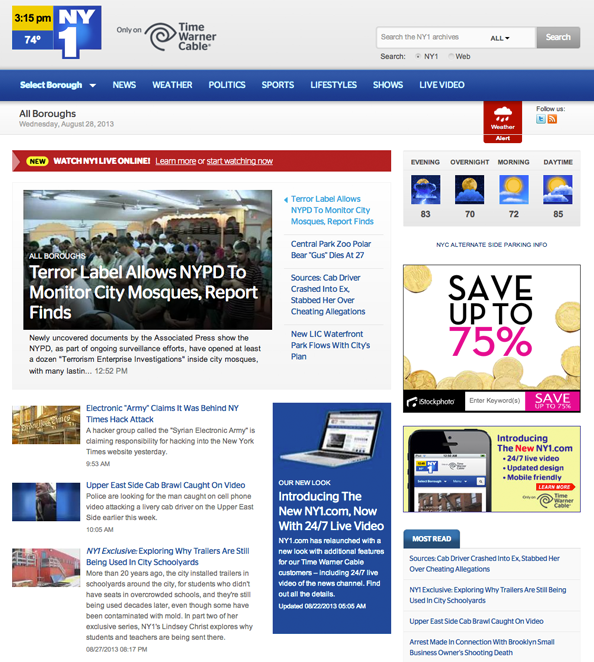 Time Warner Cable's local news channel NY1 debuted a new website about a week ago that gives users a cleaner, updated look as well as access to 24/7 streaming.
The new site starts by showcasing the current top stories through a rotating gallery. Weather information in located to the right of this, with small story summaries under the main slider, followed by a grid layout of additional content, some of which can be scrolled through horizontally.
The new site also encourage users to customize the experience by breaking content down by not only topic but by borough. A light gray bar under the site's main navigation menu shows the currently selected borough and users can easily change selections or have the site remember their preference.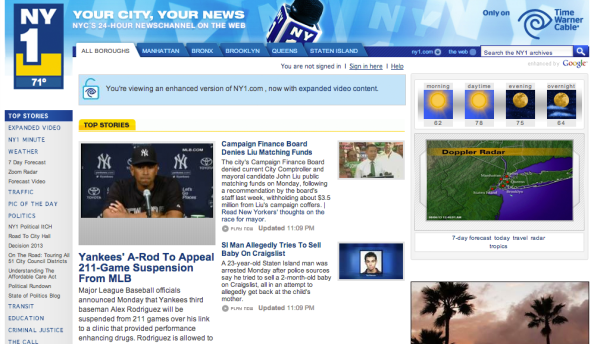 The site's main navigation, now found in a bold blue bar spanning the width of every page, is perhaps the biggest improvement. The previous site, shown above, used a vertical navigation menu that was obnoxiously long (this is mitigated on the new site through the use of dropdown submenus). A smaller horizontal menu allowed access to content by borough on the old site.
The new website also aimed to make video front and center, with large video players atop most story pages and a 24 hours a day, 7 days a week stream available to Time Warner subscribers.