MSNBC releases revamped iOS app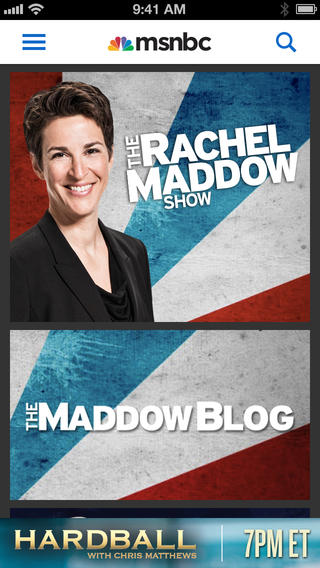 MSNBC has relaunched its app for iPhone, iPad and iTouch.
The new app features a customizable user experience with live streaming, clips of select MSNBC programming and additional show content.
For authenticated subscribers of participating cable, satellite and telco services, the new app offers live, real time streaming of MSNBC. Subscribers also have access to on demand episodes of "The Rachel Maddow Show," "Politics Nation with Reverend Al Sharpton," "Hardball with Chris Matthews," "All In with Chris Hayes," "Last Word with Lawrence O'Donnell," "Up with Steve Kornacki, "Lockup" and "Caught on Camera."
Full episodes, clips and more content from additional MSNBC programs will be available in the coming months, according to a release issued by NBC News.
"We're thrilled to introduce the next step in MSNBC's digital evolution," said msnbc.com Vice President and Executive Editor, Richard Wolffe, in the network's statement. "The launch of the MSNBC app coupled with the recent debut of msnbc.com underscores our commitment to reaching the dedicated MSNBC community on all platforms. Whether live or on demand, our audience can now access their favorite shows literally in the palm of their hands."
In addition to video on-the-go, the app allows users to personalize their account via a customized watchlist, allowing subscribers to save favorite episodes for later.
The MSNBC app will be made available for Android devices in the coming months.
To download the iOS app, visit https://itunes.apple.com/us/app/msnbc/id396885309?mt=8.