Gannett stations switch to USA Today look online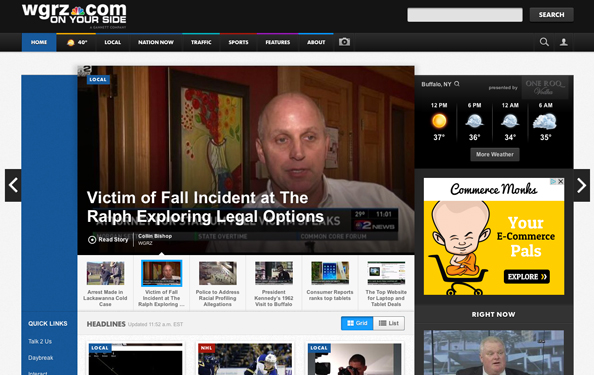 A select number of Gannett stations have debuted new websites that use the same look and feel as its parent company's flagship newspaper USA Today.
NewscastStudio noted back in October that Gannett switched its Rochester, N.Y. newspaper to the USA Today design and it appears the company's television properties are heading in the same direction.
The new sites maintain most of USAToday.com's design, including the animations, left and right browsing arrows and fixed, color coded header and navigation bar.
The WGRZ-TV site does have a few weak points — such as the glaringly empty blue bar next to the main featured image gallery. Also, since the design makes heavy use of text headlines overlayed on top of images and most of the photos used on the WGRZ-TV site are screen grabs from off air, the headlines end up directly over the on screen graphics, creating a bit of unnecessary visual clutter.
For years, Gannett newspaper and TV stations have maintained separate website platforms with differing looks — though, in general, all the TV stations shared a common look and and feel and all newspaper properties shared another.Stations and newspapers were  generally able to customize the design with local imagery and colors.
The new USA Today-driven look eliminates much of that customization — with the logo being the only prominent difference between the USA Today site and the local newspaper and TV station sites.
Also on NewscastStudio
This is isn't the first step Gannett's taken to integrate its media properties — when the group rolled out new graphics earlier this year, the color scheme was designed to match USA Today's well known topical color coding system. The "simplified" graphics package also was designed so that local footage could be easily rebranded for use on other properties, including USAToday.com.
It's interesting to note that, as of this writing, the new look hasn't been implemented in some of Gannett's higher profile markets, including WUSA-TV in Washington, D.C., WXIA-TV in Atlanta, KUSA-TV in Denver, WTSP-TV in Tampa, Fla., and KARE-TV in Minneapolis.
It will also be interesting to see how Gannett implements the new website layout in the Phoenix market where its TV station and newspaper properties share a website, AZCentral.com. Many of Gannett's smaller newspapers also have yet to make the switch.
The latest in design, production and engineering
Subscribe to NewscastStudio for the latest delivered straight to your inbox.