'Daily Show' recreates Atlanta station's 25 box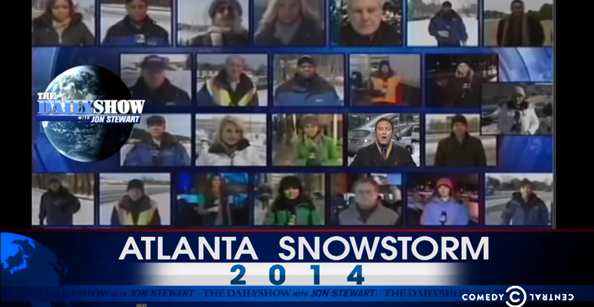 Not surprisingly, "The Daily Show" took notice of WSB-TV's 25 box and, of course, took the opportunity to poke fun at the station.
Anchor Jon Stewart dubbed the array a "25 news box pileup" and the show dispatched Aasif Mandvi to cover the story, who was inserted into the 25 box.
Also on NewscastStudio
Stewart, who had difficulty locating Mandvi, was eventually helped out by Mandvi pointing out he was "one of two brown dudes" on screen (third row down, four columns in). But, just to throw things off, Mandvi was moved to "box 18-B" and had to wave signal flares for Stewart to spot him.
But, alas, the control room decided to throw another wrench into the segment and rapidly moved Mandvi around the grid, sending the show into chaos.
By the way, NewscastStudio had its own take on the 25 box with this tweet:
[field name=iframe2]