Devlin Design Group honored with Set of the Year Award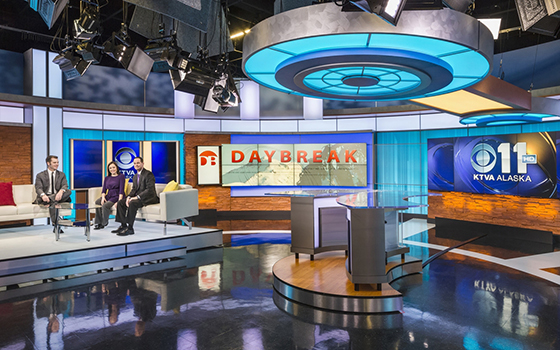 Devlin Design Group was recognized by NewscastStudio with Set of the Year for 2013.
DDG was also voted Best Local News Set in 2011 and 2012, making this year's honor its third straight win! DDG received three nominations in this year's competition. KSAZ-TV in Phoenix made it to the semi-finals, and voters this year also liked WTVC-TV in Chattanooga through the second round.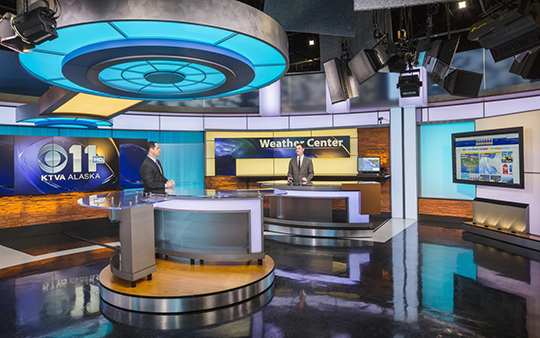 This year's winning set is KTVA-TV in Anchorage, Alaska…and this project went far beyond building a set. DDG was given the task to build and debut not just a set, but to help design an entire television station—from bare walls to broadcasting in less than a year!
It was an unprecedented opportunity to use scenic and graphic design to define the vision and brand of an entire station. And this story gets even better! Just last week, KTVA-TV was honored as Best Newscast of the Year by the Alaska Press Club. The folks at KTVA-TV say their award winning DDG set was the catalyst for this honor.
"After less than 5 months on the air, the new KTVA News was awarded 'Best Newscast' by the Alaska Press Club. I have no doubt that the amazing set produced by DDG contributed greatly to the award," said Bert Rudman, news director at KTVA-TV. "DDG and KTVA-TV have proven that quality design is not limited by market size."
What is really remarkable about this award is that the KTVA-TV set in Anchorage designed by DDG beat an impressive field of much larger market stations such as KTTV-TV in Los Angeles, KPRC-TV in Houston, KTVT-TV and KXAS-TV in Dallas, KCNC-TV in Denver, KCTV-TV in Kansas City and KSNV-TV in Las Vegas!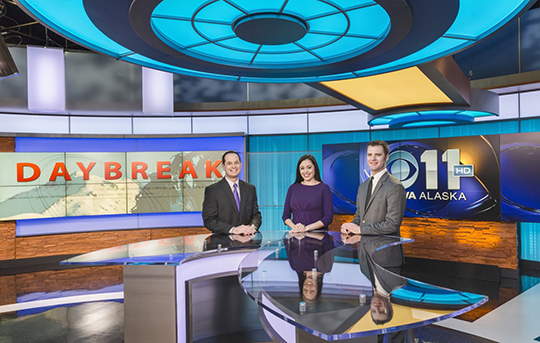 Innovation and versatility are hallmarks of KTVA-TV's award winning news environment.
The dazzling HD set includes large LED cube wall displays and color-changing backlit graphics that can be programmed to change the mood and style of each newscast. The limitless venues of the set provide story telling opportunities only limited by a producer's imagination. Anchors are energized by the variety of visual backgrounds all meant to enhance and highlight their appearance and performance.
The creativity displayed within this multi-purpose story sharing environment created some serious lighting challenges solved masterfully by Brightline Evolutionary Lighting Systems.
"We provided KTVA-TV with precision lighting solutions conceived and designed through the lens of the camera. Our lighting becomes part of their story—not a distraction. Brightline is proud to be part of the team that brought KTVA-TV's vision to life and light," said Sam Cercone of Brightline Evolutionary Lighting Systems. "The genesis of KTVA-TV's precision lighting is addressable control of each and every fixture we placed in their studio. The result is an image that is both stunning and flattering, and does not distort the background of the set."
In addition to Brightline, DDG also congratulates the other key impact players on this project: systems integrator TI Broadcast Systems; 615 Music; Hot Haus Creative; local architect Burkhart-Croft; and general contractor Lake View General Contracting.
"It's a wonderful feeling to know you have helped a client reinvent themselves as we did with KTVA. But that feeling soars beyond wonderful when the work is recognized within the industry as overall Set of the Year," said Dan Devlin, creative director at Devlin Design Group.  "Team DDG faced impressive competition in its win this year against network & cable level projects such as NBC's Today, NBC Sports, NFL, FOX Sports, BBC News,  CNN's New Day, The Weather Channel, FOX and Friends, and CTV's Canada AM. What we like most about this award is that it affirms DDG's founding principles of Creativity, Knowledge and Innovation."
Most importantly, DDG thanks and congratulates the leadership at KTVA-TV for having the bold vision to create a new generation of digital broadcasting for the state of Alaska.
Devlin Design Group contributed to the content of this article and is an advertiser on NewscastStudio.