TV3 Barcelona debuts hybrid virtual set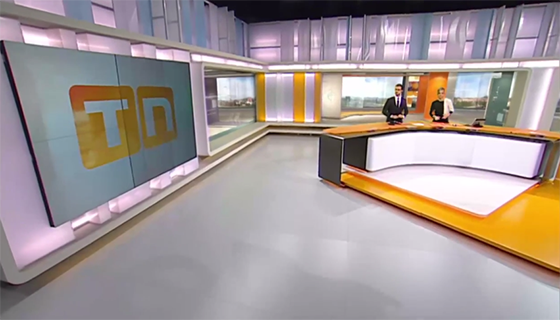 Barcelona's TV3 debuted a new hybrid virtual set from Orad that combines real fabricated scenic elements with virtual backgrounds and augmented reality graphics.
The new studio is the fourth Orad based virtual studio used by TV3. The studio is used for prime time productions including daily news, weather, breaking news and other news programs.
"The new studio presents the most important evolution of TV3's news programs. We have added much needed space, and incorporated new elements and colors to make the production more exciting," said Paulí Subirà of TV3. "The new and improved studio is a step up from what others are doing both aesthetically, technologically, and provide us with the reliability we require."
The new set offers a powerful new dimension to TV3's productions by enabling them to manipulate the broadcast for maximum effect.
The studio is divided into two areas; the main area which contains a virtual background over which the virtual graphics are keyed. It is further enhanced with rich augmented reality graphics and a large video wall resulting in an immersive virtual environment that accommodates a variety of productions. The second half of the studio contains a huge cyclorama where TV3 produces their weather segments.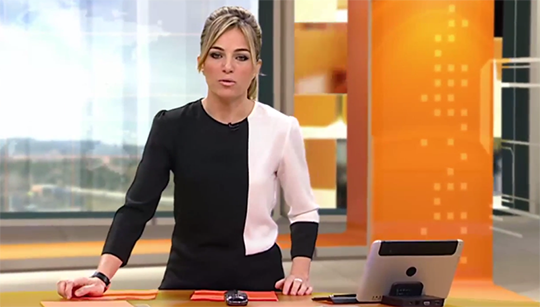 The new TV3 studio is 300 sqm of which 200 sqm is covered by Orad's Xync infrared camera tracking system.
"Leading broadcasters are combining Orad's unique infrared free tracking, powerful real time graphics, and state of the art virtual studios to captivate viewers," said Avi Sharir, CEO of Orad. "TV3 is an excellent example of how large studio's space can be maximized to bring the broadcaster's vision to light. "
The Xync system allows TV3 maximum production flexibility based on its free camera movement support for the six studio cameras studio. Each of the six cameras is rendered by an Orad HDVG graphics engine providing both the director and the cameramen a preview of the composited image. The integration with Canon Lens and Vinten-Radamec for support Digital Protocol also adds better lens tracking for zoom, focus and depth of field parameters.
Video of set in use