Video gives another glimpse of new 'SportsCenter' home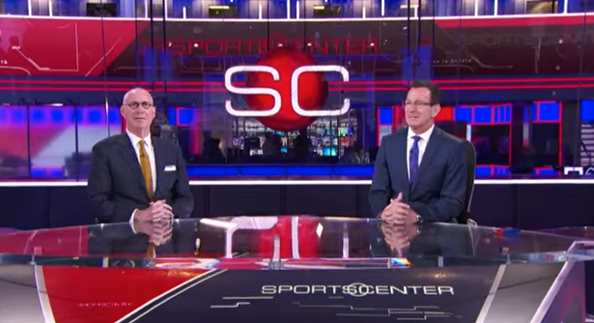 Connecticut's Governor Dan Malloy and ESPN President John Skipper hosted a mock "SportsCenter" segment from ESPN's new, state-of-the-art production facility, Digital Center 2, giving us another glimpse into how the set will look on air.
The segment, which was posted online, leaves a little to be desired as far as talent goes (the governor doesn't seem to know which camera to look at in the two shot), but also shows off the scale and clean look of the new set.
The segment also gives a glimpse a what are presumably the new "SportsCenter" graphics — a package that uses a simplified look and color palette of red, white and black in favor of the rich colors and heavy 3-D animation found in the show's current look.
The graphics fed to the on-set screens are make use of angled segments that conjures some comparisons to the Hearst graphics package or NBC Sochi Olympics package.