'Today' 'window' becomes OTS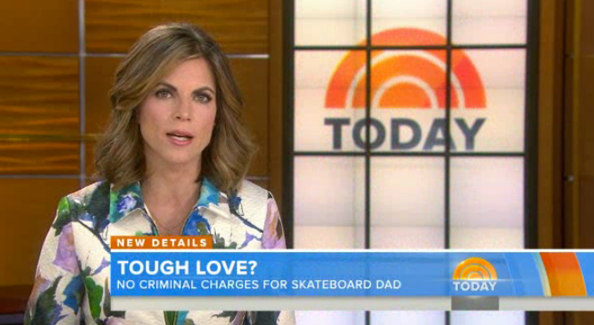 On Friday's "Today Show," co-anchor Natalie Morales gave the 8 a.m. hour news update from the main anchor desk, which had been rotated to use the studio's interior as its background.
Instead of framing her against the gold textured wall with dimensional "Today" logotype as is typically done for her one shot, the show used the faux window behind the anchor desk as an OTS displaying the "Today" logo — a look that's reminiscent of the show's now defunct news desk.
During the segment, the animated graphic rotated between a light toned background version and an inverse look with a light logo and orange background. When the lighter tone version was fed to the monitor, the lines in the video panels were rather blatantly visible, which combined with the black framing around the "panes," made for a rather cluttered look.
The look could have been more effective if the black frame could be removed when used in this manner — just as we noted when Kathie Lee and Hoda Kotb's new set debuted with a similar look.
At the end of her segment, Morales turned to face the video wall to toss to Al Roker — who played up the fact that he appeared to be "trapped" behind the window panes by pantomiming trying to push his way out.