Comcast wants to replace 'GE' letters atop 30 Rock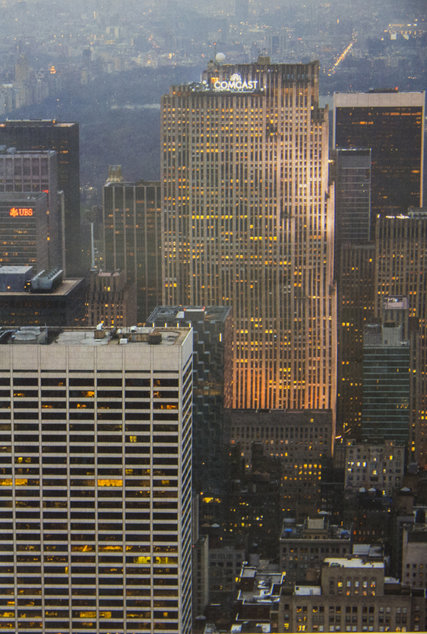 NBCUniversal parent company Comcast has begun the process of getting permission to remove the neon "GE" lettering from the top of 30 Rockefeller Center and replacing it with its own name and the NBC peacock.
The 24-foot high neon "GE" letters, which have been on top of the building for nearly 25 years, replaced the helium-filled "RCA" logo that was first installed in 1937. GE is now headquartered in Connecticut.
Now, Comcast wants to install 12 foot letters spelling out "Comcast" along topped with a 10-foot high NBC peacock on both the north and south sides of the building, as shown in the rendering above. The company's request also includes plans for a 17-foot high NBC peacock on the western facade. The company is also planning to switch to LED if the proposal moves forward.
In addition, Comcast is seeking permission to proceed with plans to create a new entrance and marquee along the Avenue of Americas promoting "The Tonight Show with Jimmy Fallon."
The plans were approved by a local commission last week and a hearing before the city's Landmarks Preservation Commission is scheduled for Tuesday.
Because Rockefeller Center is a historic landmark, changes such as these must be approved by the preservation group as well as local government.
Peg Breen, the president of the New York Landmarks Conservancy, told the New York Times that, since the change from the RCA to GE logo was previously approved, the new changed is likely to be OK'd as well.
The New York Times also points out that to many New Yorkers, 30 Rock is still referred to as the "RCA Building" despite the fact it's been a quarter of a century since those letters were removed.
The Comcast logo that would be installed was introduced in 2012, a design that was widely criticized and whose typeface drew invariable comparisons to the typographic choice used for the NBCUniversal logo. At the time, designers joked that it appeared NBC had decided to save money by using free (and lower quality) fonts in all its designs.