SEC Network launches with flashy, curvy studio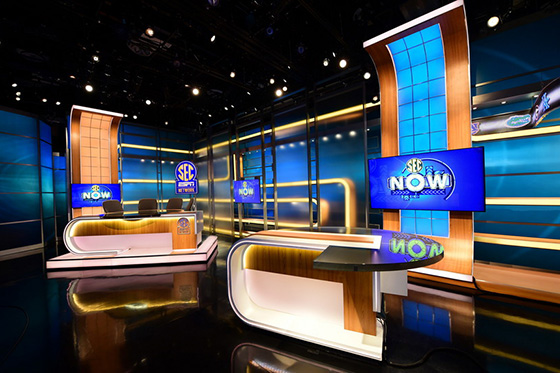 This week, ESPN flips the switch on the newest sports network in America. The SEC Network will cover the 14 schools of the SEC 24/7, beginning Thursday.
The network is part of a 20 year agreement the SEC struck with ESPN that gives the network access to 45 SEC football games, more than 100 men's basketball games, 60 women's basketball games, 75 baseball games, and events from across the SEC's 21 sports annually.
Also on NewscastStudio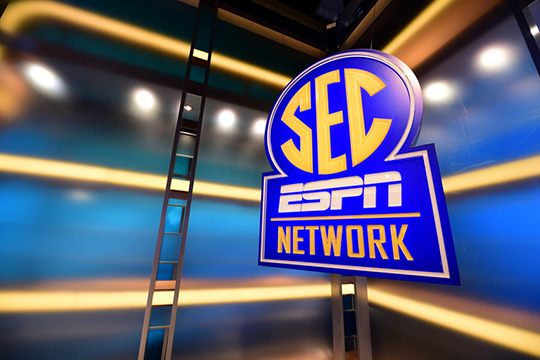 At the heart of the SEC Network is ESPN's Charlotte Production Facility, which has been home to ESPNU since its launch.
Newly expanded and renovated, the Charlotte facility includes three new sets and 2,800 square feet of studio space for the SEC Network.
Also on NewscastStudio
"SEC Now," "The Paul Finebaum Show" and "SEC Nation" will make heavy use of the studios at launch.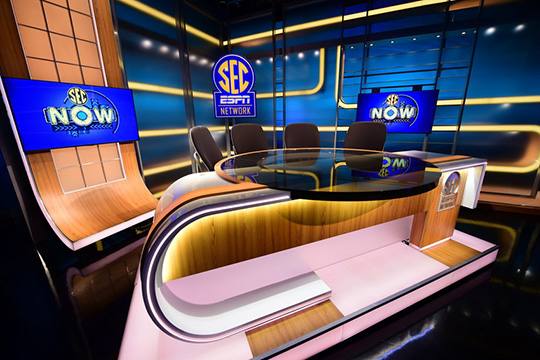 "It was important that the set had its own distinct look and feel, while still maintaining the quality and technology that viewers have come to expect from an ESPN network," said ESPN's Stephanie Druley, vice president production, college networks. "The set is designed to give us three unique environments."
John Casey Production Design worked to create the sets unique design, which includes many curved backlit elements.
The sets include a balanced mix of wood, backlit elements and printed graphics with panels to create a blurred effect behind talent. A large desk serves as home base with many presentation points throughout.
The set is very curvy, with minimal straight lines. Curved wall elements, desks and header elements adorn the set.
Technology has been worked in throughout, with the addition of touchscreen monitors and a LED ticker.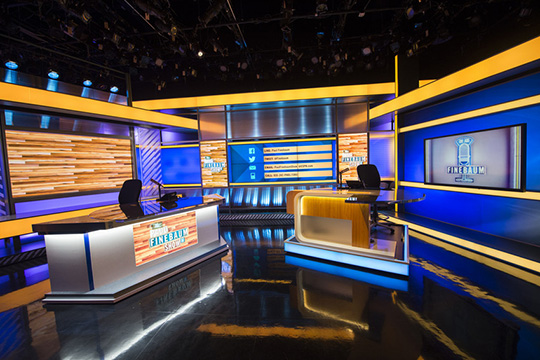 A smaller set with a monitor wall has been created for "The Paul Finebaum Show," a radio/TV simulcast that will air on the network. This set includes two desks and many SEC colored backlit elements.
The overall look is sporty, but different from ESPN, giving the network some distance from its parent.
You can view a full gallery of the studios on SetStudio.