NBCNews.com previewing new 'topic pages'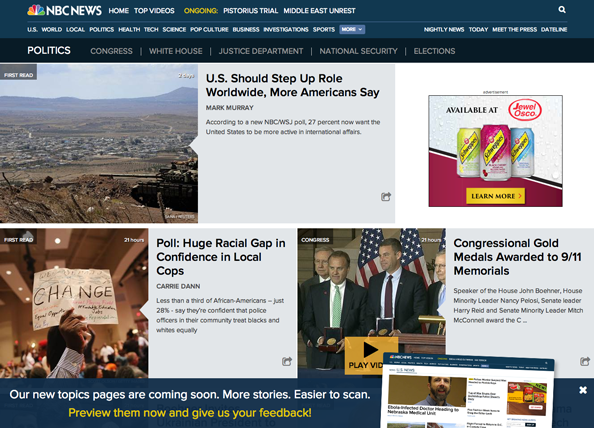 Just a month after launching its redesigned homepage, NBCNews.com is now offering a preview of its new "topic pages."
These pages, which are essentially section and subsection main pages, are getting a similar look and feel to the new homepage.
Users are notified of the preview with a banner stretching across the bottom of the page — a nearly identical strategy that was used when the network was testing the new homepage design.
This preview topic pages drop the full width, tiled and image-heavy layout that was widely paned by users in favor of a cleaner design that NBCNews.com touts as having "more stories" and being "easier to scan."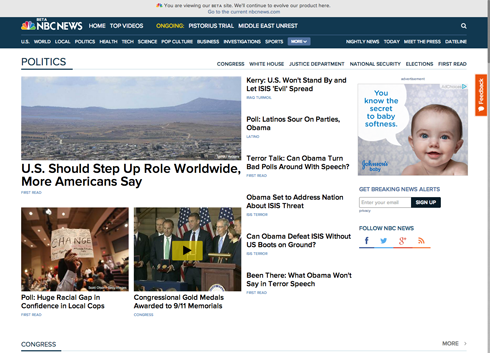 The new look is certainly "safer" and more traditional, albeit a tad uninspired — almost as if NBC News is fearful of taking ANY design risks now.
As with previous previews, NBC is also serving up an orange "Feedback" tab on the new topic pages for gathering user comments in a private forum.
It's also worth noting the network has added a "beta" tag to the logo in the upper left of the page, along with the message "We'll continue to evolve our product here."
It's not surprising that NBC is taking a bit of a cautious, phased in approach to rolling out changes given the reaction that its massive redesign, which officially launched in February.
Given that, is a story page redesign in the offing?