CNN confuses Cardinals logos on map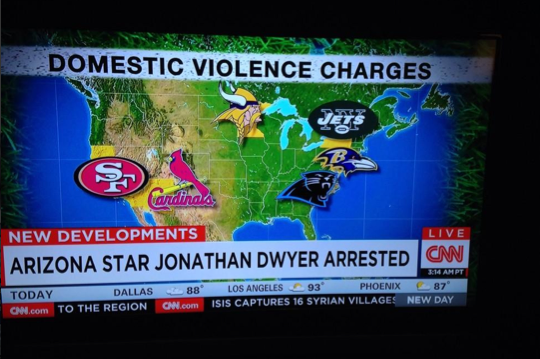 In its ongoing coverage of NFL domestic violence coverage, CNN showed viewers a fullscreen map depicting the locations of the teams that have ongoing cases against players.
The latest team, the Arizona Cardinals, "deactivated" player Jonathan Dwyer after accusations against him surfaced.
In the map, CNN showed the states of each team along with a team logo but, unfortunately, chose the wrong Cardinals logo, as shown in this screenshot posted on Twitter:
[field name=iframe]
The map uses the logo of the St. Louis Cardinals, located over 1,400 miles from Phoenix.
While it might be understandable to mix up two similar looking images of red birds gleaned from a sloppy Google Images search, what makes this error particularly painful to see is that the St. Louis cardinal is perched on a baseball bat which, the last time we checked, isn't standard issue NFL equipment.
Well, at least they got the states right…