Philly ABC WX promo: 'Who do you think I am?'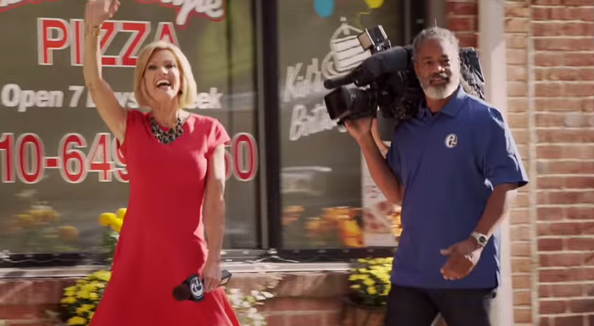 WPVI-TV, the ABC O&O in Philadelphia is airing promos spotlighting forecaster Cecily Tynan centering around the theme of her name being synonymous with weather forecasting.
The first scene includes two office workers speculating on the weekend's weather. The overly enthusiastic male worker is eager to plant begonias, while his gloomy female coworker responds with a sarcastic "Really, George? Who do you think I am, Cecily Tynan?"
Next, we join a mother dropping off two kids at school, giving them an umbrella and spewing out a line about a "low pressure system." As the embarrassed daughter and her friend walk away from the car, the friend mutters "What's with your mom? Is she like a Cecily Tynan or something?"
Finally, a construction worker comes up to a coworker wondering if it's going to cloud up later. His buddy responds with a sarcastic "Geez, Frank, who do I look like? Cecily Tynan?"
The gag is that as they are chuckling, the pair looks over and sees Cecily Tynan, armed with an 6ABC mic and a smile straight from a toothpaste commercial and in full hair and makeup walking down the street with a videographer (as all forecasters do).
The kicker comes when the spot rejoins the construction workers, with the line "You know, you do sorta have her cheekbones."
Watch the full spot here:
The latest in design, production and engineering
Subscribe to NewscastStudio for the latest delivered straight to your inbox.