Bloomberg debuts "With All Due Respect"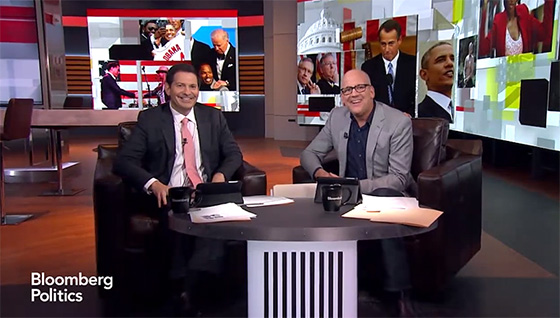 Backed by political junkies Mark Halperin and John Heilemann, Bloomberg mixed technology and comfy for its new show "With All Due Respect."
Bloomberg built out a new set for the show, which broadcasts from the companies New York City HQ.
Home base includes two large chairs and a coffee table. Halperin and Heilemann anchor the show from the chairs, getting a bit too comfortable at times. A wall of political tchotchkes is on the left and is seen during interviews, but is otherwise a bit out of place with the slick look.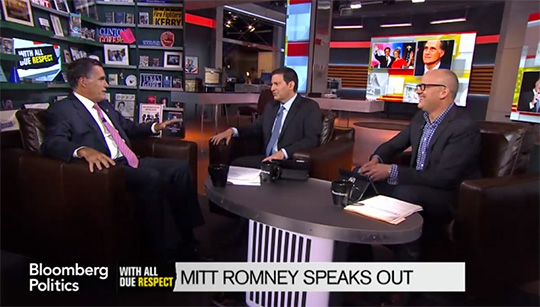 The sets key feature is a large seamless video wall, broken into two pieces, that wrap around the studio. Various video elements are shown on the screen, along with interviews. The hosts interact with the wall at various points during each show, including facing to to review speeches, similar to "Mystery Science Theatre 3000."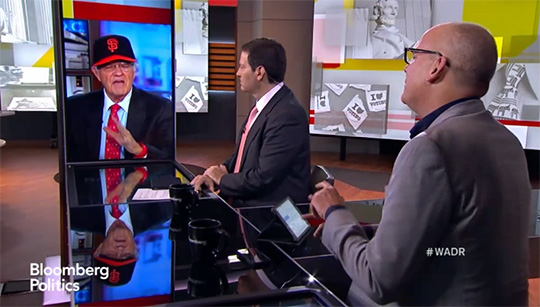 A pillar in the center of the studio provides the cornerstone for a true anchor desk that includes a vertical monitor for interviews.
Graphically, the show uses a mix of grey and yellow, with pops of red. Large pictures and graphics flow around the set on the video wall, providing a unique background element.
During the show, Bloomberg drops its L-bar of news, giving the show room for its own rundown graphic, "The Brief." Similar to ESPN's "Pardon the Interruption," the hosts talk about these stories and a timer appears when they've talked too long.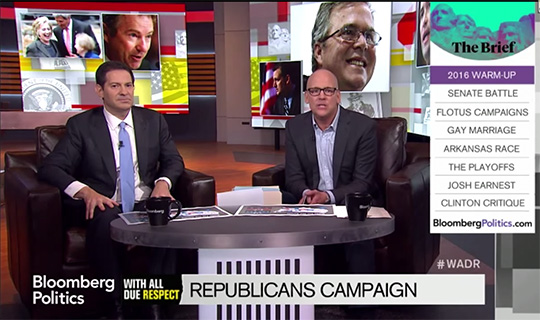 While the show has received mix reviews so far, the shows look is very polished. From the graphics to the set, Bloomberg has invested heavily in the show and its new Bloomberg Politics brand.