HLN begins renovating Studio 7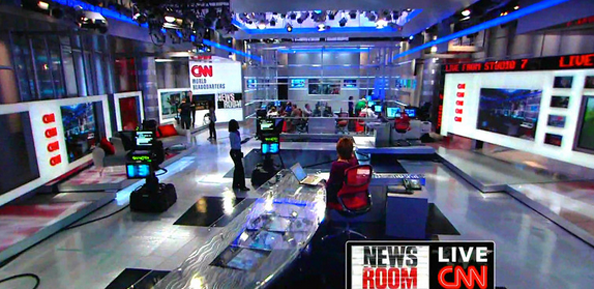 HLN has started renovating Studio 7 in CNN Center in Atlanta, the former home of parent network CNN, reports CNN Commentary.
HLN is planning to debut new programming for the studio in early 2015, according to a CNN Commentary source.
The studio had been home to CNN's Atlanta based programming, which had become increasingly less frequent and was completely shuffled to New York City earlier this year. Those shows now originate from Time Warner Center, though Time Warner is planning to move out of the building, which it sold in January, in 2018 to a facility to be built in Hudson Yards.
Studio 7 was opened in 2010 and served as a multifunctional space for a variety of CNN programming.The large studio included a movable anchor desk, blended rear projection screen, interview area, enclosed work area and is also includes HD monitors and LED video walls.
The look and feel of the space, including the wide RP screen and two-toned circular column, ended up heavily influencing network's look and feel over the following years, most notably the network's Washington, D.C. bureau set, which debuted in 2012.
HLN has fallen victim to parent company Turner Broadcasting's cost-cutting, including the cancellation of "Jane Valez-Mitchell" and laying off its host.
How exactly Studio 7 will be revamped remains to be seen, but see how part of Studio 7 has managed to live on in virtual form.