CNN channels movies for Keystone XL explainer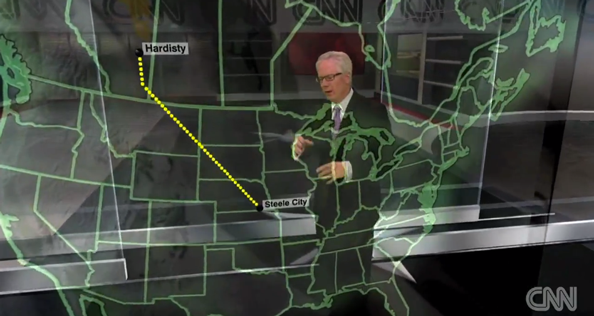 During its coverage of the Keystone XL pipeline vote, CNN used its virtual environment technology to create a map that looked like it was taken straight out of a Hollywood science fiction flick.
Tom Foreman, who typically hosts the virtual environment segments, mapped out the path the pipeline would have taken through North America using a seemingly floating map.
The map, which "popped" up out of thin air was transparent, with the lines of the state, country and province borders showing up as a bright green and Foreman could walk behind the map and point out various points of interest, all with realtime camera tracking that allowed the view to change angles and move in closer or pull back.
The look is similar to the floating displays of maps and data seen in "Minority Report" or "Star Wars" but also has similarities to the glass, non-virtual, freestanding maps with lighted element used in countless other movies and shows such as "24" and "Die Hard 2."
Unlike some other uses of these virtual environments (such as virtual goats), this seemed like a much more appropriate way to utilize the technology and did actually add something to the storytelling.
Sure, the map could have been done with a simple fullscreen graphic, but having Foreman being able to interact with it and be immersed in it did make it a bit easier to visualize, though it sometimes was a bit cluttered visually.
Behind the map itself, meanwhile, was a virtual space with prominent CNN branding and a look and feel similar to many CNN sets.