Baton Rouge ABC debuts sleek set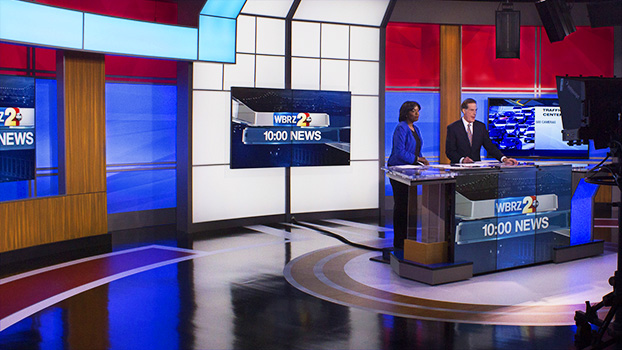 WBRZ-TV, the ABC affiliate in Baton Rouge, La., debuted a new set from Devlin Design Group on November 17.
"This is one of the most innovative sets for news at a local station anywhere in the country," said Rocky Daboval, WBRZ-TV GM. "For decades, news sets have served as mere backgrounds for anchors and others to tell stories. This set changes that."
The main anchor area of the set includes a monitor-fronted desk and a 2×2 monitor wall with backlit panels. Overall, the set design includes large backlit areas layered with wood panels and metal bars, creating a network look for the DMA 93 station.
Devlin describes the set as a versatile storytelling environment that features warmth and maximum flexibility on-air.
"Our collaboration with the staff at WBRZ-TV resulted in a design as rich and diverse as the culture of Baton Rouge, and from a visual standpoint, as memorable and savory as the cuisine," said Dan Devlin of Devlin Design Group. "The broadcast professionals at WBRZ-TV 2 made it clear from the beginning of this project that they only wanted to work with one scenic design company — Devlin Design Group. We're honored for that consideration and we congratulate WBRZ-TV 2 on having the foresight and leadership to set the scenic standard for the market."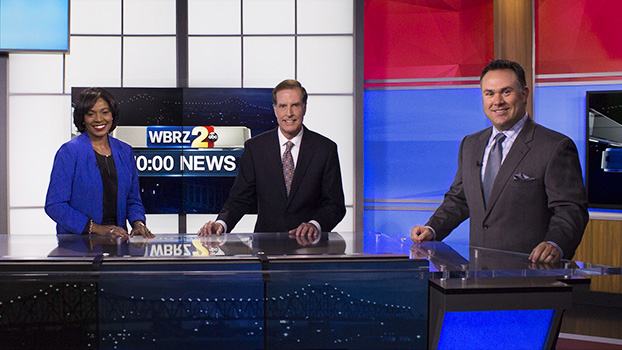 A second 4×2 NEC monitor wall creates a large multi-purpose area, with an 80-inch touchscreen to the left of the anchor desk. The set also includes a social media pod where stories can be broken down further.
"Pictures, graphics and maps can be programmed into multiple video walls to allow our anchors help viewers understand important stories," said Chuck Bark, news director at WBRZ-TV. "The news set is both versatile and dynamic. Most importantly for our viewers, it means watching news will never be the same."
DDG worked with Brightline to properly light the set for high definition.