'GMA' still tagging videos with ex-anchor names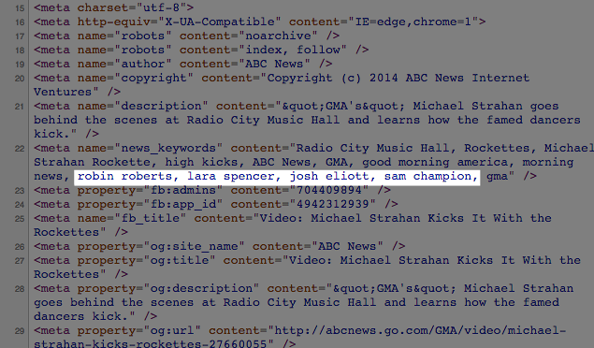 This is either a big oversight or someone being pretty smart.
We happened to notice that the ABC News website is still tagging, using special code meant for news oriented search engines, its stories with former anchors' names.
A close inspection of the video pages found on ABCNews.com that feature "Good Morning America" content (which are hosted under the Disney owned go.com domain) reveal that Josh Elliott and Sam Champion's names still appear in "meta news_keywords" tag, which is a special tag Google News and other services use to help determine the subject matter of a news story page.
Elliott left ABC in March for NBC Sports and also appears on "Today." Champion exited in December 2013 for the Weather Channel where he now hosts the low rated "AMHQ."
It's also worth noting that Elliot's name is spelled wrong (with one "L" instead of two). In addition, Robin Roberts and Lara Spencer's names also appear, but George Stephanopoulos' name is missing (though that might be because no one can spell it!).
In addition, the names do not appear in video pages found on the actual "Good Morning America" site, which is hosted under yahoo.com as part of the show's partnership with the Internet portal.
We're not sure if the names are simply part of a template and are being filled in automatically or if ABC is still trying to capitalize on its former talent's names by leveraging the system to its content appear when viewers who don't realize or remember the talent has parted ways with the show.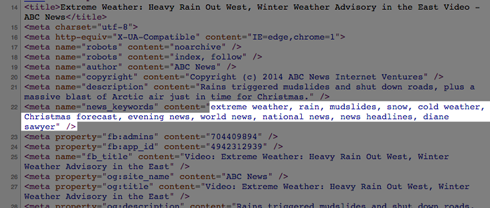 A look at the video pages of "World News Tonight" content, meanwhile, shows that former anchor Diane Sawyer's name still appears in those tags, while current anchor David Muir's name is nowhere to be found.