NORAD Santa Tracker celebrates 59 years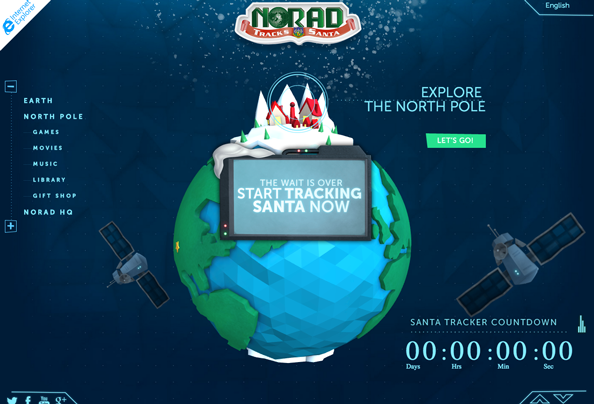 NORAD Tracks Santa, a staple of many TV news outlets looking to fill time on Christmas Eve weathercasts, is celebrating its 59th anniversary this year.
More popularly known as the "Santa Tracker," the volunteer-run program purports to track the location of Santa as he delivers gifts around the world. Children can also call and email into the program.
Many TV stations use the NORAD "data" on Christmas Eve during weather reports or other parts of the newscast by incorporating the location of Santa into maps — while others simply use their own NORAD-inspired "tracking technology" to present the data.
NORAD, which is short for North American Aerospace Defense Command, is a U.S.-Canadian joint government organization that provides aerospace warning, air sovereignty and defense for Northern America.
Back in 1955, when NORAD was known as CONAD (Continental Air Defense Command), a Sears store in Colorado Springs printed an ad in the local paper with a phone number that children could call to "talk to Santa."
The number printed, however, was incorrect and rang to the CONAD facility. Instead of letting the children down, the commanding officer at the time instructed those on duty to give out updates on Santa's location — and the tradition of NORAD providing the Mr. Claus' location stuck.