PrimeTime introduces new line of energy-efficient LED lights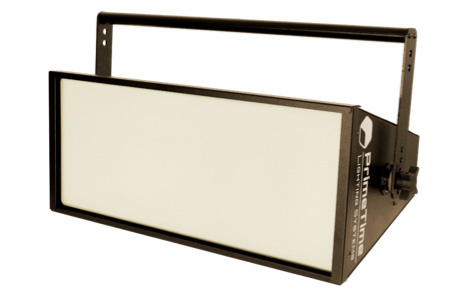 KW/2 became PrimeTime Lighting five years ago with little fanfare. In 2013, Glen and Cynthia Harn acquired the company and realized customers didn't realize the switch had occurred.
"Chief engineers at television stations across the country tell us that KW/2 lights are the most durable and lasting luminaires in their studios," said Glen Harn, CEO of PrimetTime. "Some engineers and lighting designers were not aware of the brand name change and have been thrilled to know that they get the same product integrity in our newer LED offerings as they enjoyed with KW/2 fluorescent lighting instruments."
For the past year, the team at PrimeTime has been focused on new products aimed at the LED market, launching the GUS 41 LED Fresnel, 1SLED and MSLED.
"The same Texas team continues to design, engineer and manufacture the broadcast studio lighting products resulting in the KW/2 and PrimeTime legacy of high performance, superior quality and lasting durability," said Harn.
Cynthia Harn, vice president of marketing, explained that the previous owner had "rebranded the light fixtures from KW/2 to PrimeTime Lighting Systems in 2010 to better describe the integrated product line of LED and fluorescent luminaries." She added, "it is a unique branding opportunity for us to engage KW/2 enthusiasts as PrimeTime users!"
In 2015, PrimeTime plans to introduce a 58 watt LED fresnel that the company describes in a release as a "game changer."
"It outperforms competitor's LED Fresnels with PrimeTime's highly engineered and energy-saving technical innovations," said Harn.
SLED Series
"The new SLED series of LED luminaires by PrimeTime Lighting Systems are brighter with more punch than similar LED fixtures in the broadcast studio lighting market," said Harn. "Lighting designers, TV broadcast studios, worship facilities and systems integrators across the country have told us they are excited about our new SLED series light fixtures. For many lighting designers accustomed to using our fluorescents, the SLEDS provide easy LED equivalents with the same manufacturing quality."
Dubbed the SLED series because of new LED technology, the series includes two different luminaires which were heavily influenced by existing top-selling PrimeTime fluorescent fixtures, previously manufactured under both brand names KW/2 and PrimeTime.
The 1SLED and the MSLED are available from lighting dealers, resellers and systems integrators featuring:
Single shadow rendering with a consistent soft light output for optimal talent lighting
Top quality Light Emitting Diodes (LED) with 50,000 hour rated lifetime
High Color Rendering Index (CRI)
Built-by-hand in America
Brighter than similar LED and fluorescent lights