'Today' channels 'GMA' Times Square look in background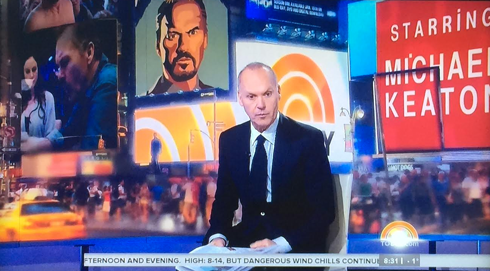 Spotted on the "Today Show" this morning: Actor Michael Keaton's interview in front of the so-called "production area" video wall that was used to display a Times Square inspired background that's awfully close to the set background of rival "Good Morning America."
The graphic displays a variety of large billboards that have "Today" logos and photos of Keaton and his work superimposed on it.
The entire look draws inevitable comparisons to the video projection background used behind the anchors over at "GMA" though, in fairness, since both shows are based in New York City it's not exactly unusual that the scene was selected as inspiration.
Fellow NBC program "NBC Nightly News" has also used video loops of Times Square on its set's rear projection screens.