CNN map takes over 'New Day' floor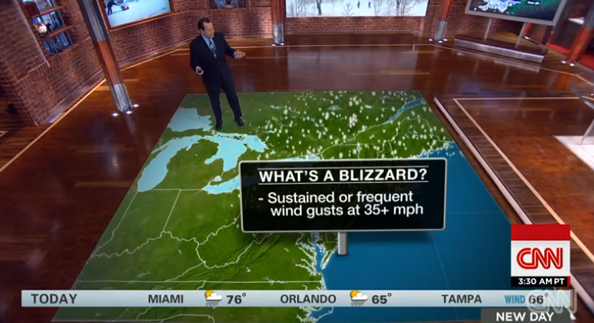 CNN's Nor'easter coverage this morning included placing forecaster Chad Myers on a virtual map "projected" on the "New Day" set floor.
After Myers gave his regular forecast update at the set's freestanding monitor, he walked off frame and the control room cut to a wide view of the studio floor, which had a large map digitally imposed on it.
Myers used the map and graphics to explain the science behind a blizzard and what, exactly, makes a snowstorm a blizzard.
Unless CNN did some fancy editing, it appears the virtual graphic was inserted over the floor of the "New Day" studio, rather than him standing in a green screen studio as it normally does with correspondent Tom Foreman.
Watch the clip below:
[field name=iframe]