Super Bowl set boasts large NBC peacock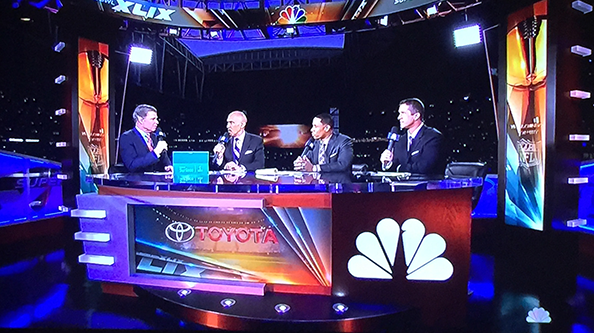 For its coverage of Super Bowl XLIX in Phoenix, Ariz., NBC Sports created a warm yet modern temporary set that was quite in your face about what network the coverage was on.
The main element of the set was the anchor desk — which featured a large, white backlit NBC peacock inset into a dark wood toned surface on one side. The temporary setup was designed by Innovative Show Design and matched the design style of the "Football Night in America" set that debuted in the fall on NBC.
To the left was a rectangular video panel, framed by both wood and silver toned elements, with three horizontal, semi-translucent elements on the far left side of the desk. The top of the desk, meanwhile, was a thick slab of plexi.
The peacock element was a bit too large and bright — in wide shots of the four commentators seated around the desk it dominated the shot to the point of distraction.
That, combined with a rather cluttered graphic in the video panel, resulted in much of the visual emphasis being taken off the Toyota logo (which could be a good thing or a bad thing, depending on if you're a viewer or sponsor).
The peacock wasn't the only visually glaring thing on the set — a seemingly phantom Microsoft Surface tablet also made an appearance.
The rest of the set, which was erected inside the University of Phoenix stadium, which features a retractable roof, included metal trusswork with vertical video panels on the left and right side of the desk as well as a curved video ring above.
One interesting touch was that the graphics fed to video columns were designed in a way that made them appear to be two separate panels intersecting at 90-degree angles.