'CNN Quiz Show' set photos added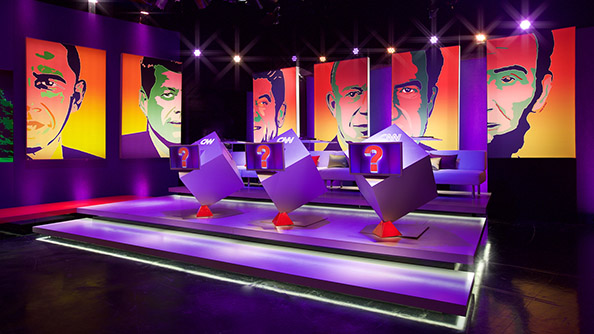 "The CNN Quiz Show" debuted this President's Day on the cable news network with a set from Clickspring Design.
"CNN's Quiz Show: Presidential Edition features an adaptation of the network's iconic cubes, this time as lecterns for host, Anderson Cooper and for the six anchor-team contestants. Modernist presidential portraiture surrounds the primary game area allowing the show to shoot 360 degrees. The program aired Feb. 6 from CNN's New York studios, with a live studio audience," said Clickspring in a statement.
The set features a red and violet color scheme and also incorporates a video wall and dimensional, internally lit logos suspended from the ceiling. Blackwalnut fabricated the set and The Lighting Design Group lit it.
The show originated from studio once known as the Communications Center. That set has played host to a variety of New York City based programs, including "Erin Burnett OutFront" and "Early Start." Plans to replace the set in 2013 were scrapped, according to NewscastStudio sources.