Dallas forecaster tweets Snowmageddon 'prayer'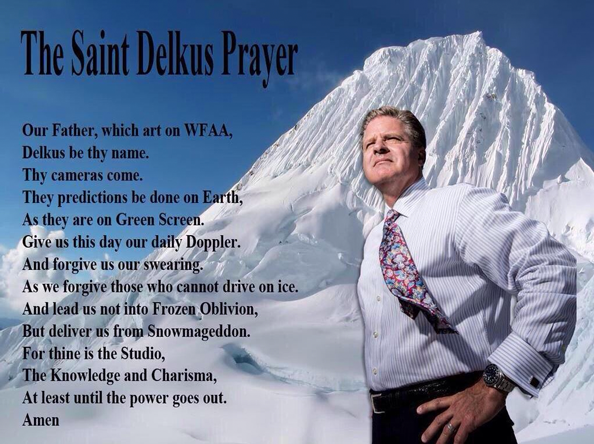 Dallas forecaster Peter Delkus tweeted out a photo of himself with the words to a "prayer" running next to him.
Delkus is a forecaster at WFAA-TV, which is in full storm coverage mode as the normally mild city is hit with winter weather.
The full text of the prayer, which is titled "The Saint Delkus Prayer," reads:
Our Father, which are on WFAA,
Delkus be thy name.
Thy cameras come.
They predications be done on Earth,
As they are on Green Screen.
Give us this day our daily Doppler.
And forgive us our swearing.
As we forgive those who cannot drive on ice.
And lead us not into Frozen Oblivion,
But deliver us from Snowmageddon.
For thine is the Studio,
The Knowledge and Charisma,
At least until the power goes out.
Amen.
While many on social media have praised Delkus' humor and creativity, others have taken offense to him inserting himself into the Lord's Prayer.
[field name=iframe]