PrimeTime introduces brighter LED units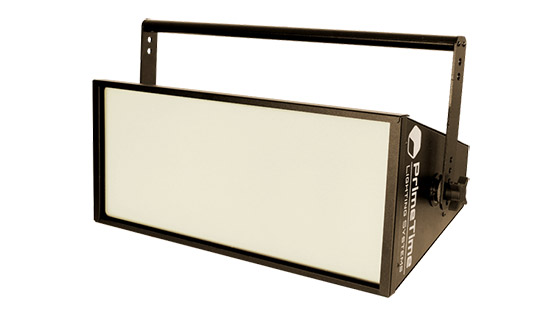 PrimeTime Lighting Systems has debuted new and improved 1SLED XB and MSLED XB lights, built in America, that are 30% brighter than the originals introduced last year.
The Dallas based lighting manufacture said in a release that the lights were inspired by the companies top-selling fluorescent fixtures.
"These LED lights have an incredible punch and throw with a single shadow soft light," said Glen Harn, CEO of PrimeTime.
The 1SLED XB and MSLED XB are available from lighting dealers, resellers and systems integrators and feature:
Single shadow rendering with a consistent soft light output for optimal talent lighting
Features top quality Light Emitting Diodes (LED) with 50,000 hour rated lifetime
High Color Rendering Index (CRI)
Proudly built-by-hand in America
New energy-efficient LED technology
Local and remote dimmable using local adjustment or optional DMX-512 signal decoder(s)
Lightweight all aluminum construction
1SLED XB – Performs key, fill, side or back light on a chroma key or interview set with LED performance. Influenced by PrimeTime's top-selling 1SL, the 1SLED XB can be used in broadcast studios, video conference facilities, city council chambers or motion picture and TV production.
MSLED XB – The new MSLED XB is a great solution for low ceiling applications. This LED was influenced by PrimeTime's popular MSL fixture and can be used in many applications.