AccuWeather, Baron team up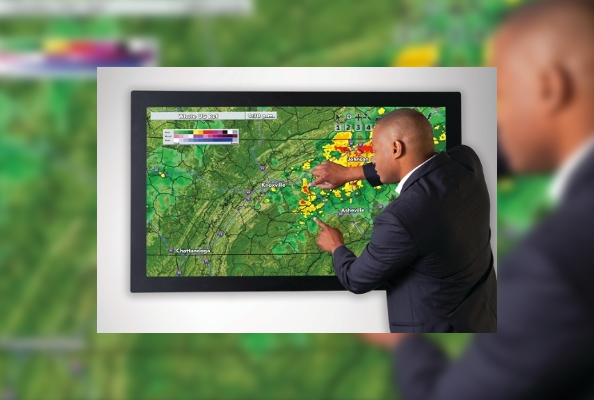 AccuWeather and Baron today announced a strategic partnership, joining forces to bring new combined severe weather capabilities to local television stations.
Under the new partnership, Baron's on-air radar technology and patented storm tracking and forecasting of tornadoes and severe thunderstorms will utilize AccuWeather's award-winning StoryTeller Interactive Touchscreen Solution.
AccuWeather is also utilizing Baron's radar and severe weather products on the new 24/7, "All Weather, All the Time" AccuWeather Network. The AccuWeather Network has incorporated Baron's severe weather intelligence in its live storm coverage, in addition to weather alerts, information, and updates, providing the smarter choice in weather programming, according to a statement issued by both companies.
Baron's Severe Weather systems and data will be displayed in StoryTeller by AccuWeather for the first time at the 2015 NAB Show next week in the AccuWeather Booth, #SL6009.
Baron's weather data and alerts, available through the Omni and VIPIR platforms, offer local broadcasters the next level of storm tracking and weather graphics to best inform, attract and retain viewers. Combined with StoryTeller, the products offer the best level of storm tracking and captivating HD weather graphics to help save lives. This coverage, integrated with real-time videos and illustrative, interactive capabilities for meteorologists that only StoryTeller can provide, will produce a new level of interactive, engaging, and relevant broadcast weather coverage.
"StoryTeller meets the needs of a digital-savvy TV audience by incorporating the next level of interactivity and visual excitement into cutting-edge broadcast presentations," said Ryan Ayres, vice president of AccuWeather's Display Systems and Services in the statement. "We will further enhance AccuWeather's StoryTeller weather offering – the best local newsroom display system available — by integrating Baron's best-in-class radar displays and severe weather tracking, covering severe weather events, from tornadoes to severe thunderstorms and lightning, to help peoples' lives."
"We are proud to be working with AccuWeather to expand the distribution of this valuable life-saving data," Bob Dreisewerd, executive vice president, research and development, said in the press release. "Baron provides very precise, timely severe weather information with Critical Weather Intelligence as our personal mission. Working with AccuWeather, we can offer a combined weather experience for stations and viewers that is unparalleled in the industry."
At NAB 2015, AccuWeather is introducing additional new and enhanced StoryTeller features, including improved social media and UGC functionality, a new traffic solution with 3D display, enhanced realtime polling, Drone HD video integration and groundbreaking weather enhancements with greater alerting functionality and vivid displays – plus the new integration of Baron Services – will be demoed at the show at AccuWeather Booth #SL6009.