Tagboard, Hootsuite partner to create social streams for broadcasters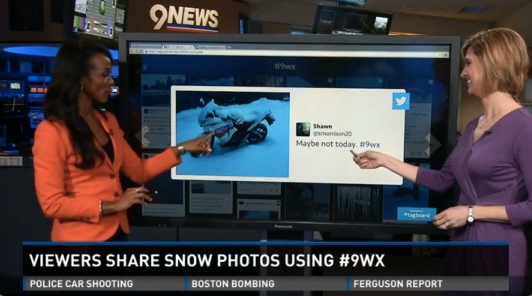 Tagboard today announced that it has partnered with social relationship platform Hootsuite to help media companies, sporting teams and brands discover, curate and showcase social posts within seconds of them being published on source networks.
The partnership offers the first seamless social display workflow for media, sports, and entertainment companies utilizing Hootsuite, which has more than 10 million users, and Tagboard.
For broadcasters, implementing a social TV solution allows networks and advertisers to engage in a real-time conversation on the viewer's platform of choice by highlighting audience social media activity during the broadcast, the companies said in a joint press release.
Increasing viewer engagement has grown from an optional step for TV networks and agencies, to a key component of attracting advertisers and fueling ratings.
Nielsen, a leading global provider of information and insights into what consumers watch and buy, now tracks and provides Social TV measurement results to networks. Their recent TV Brand Effect research has shown that ads perform better on memorability in TV programs with high program engagement, fueling the desire for broadcasters to easily produce and air social content.
"The partnership between Hootsuite and Tagboard means increased control and efficiency for our clients, while allowing them to promote safe, engaging content to viewers and fans," said Josh Decker, CEO of Tagboard in the statement. "By combining the vast social publishing, listening, and reporting power of Hootsuite and the real-time capabilities of our Social TV display technology, we're streamlining the workflow while creating more opportunities for interactive experiences."
The integration offers joint clients of both Tagboard Enterprise and Hootsuite Enterprise the ability to add a Tagboard app to their Hootsuite social media management dashboard. Clients will then be able to search and find social posts within their Hootsuite dashboard, and with one click, send the posts to Tagboard-powered displays; on air, through live screens or online.
Harnessing decades of industry experience and insider knowledge, the Tagboard app for Hootsuite was created in collaboration with Gannett Broadcasting, a media company that owns television stations in 38 markets, and their digital producing teams.
"We're excited to partner with Tagboard as we expand our growing Hootsuite ecosystem," said Kevin Zellmer, Hootsuite's global director of enterprise business development in the release. "The integration allows our joint clients to stay on the cutting edge of sourcing and displaying social content, creating interactive experiences for their audiences across multiple platforms."
The Tagboard app for Hootsuite is now available for joint Hootsuite Enterprise  and Tagboard Enterprise customers.