British debate uses panoramic backdrop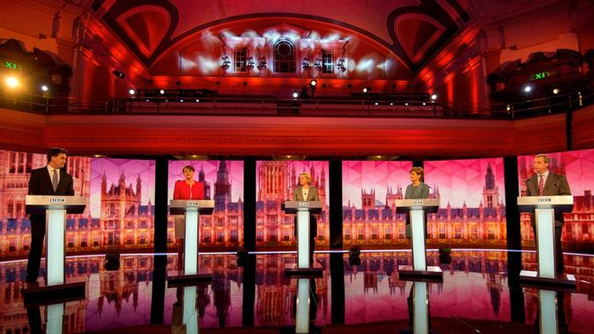 Unlike U.S. debates, which tend to use rather dull backgrounds, the BBC's political debate that aired last week featured a bold background.
The debate, which featured five politicians and was moderated by a BBC anchor, originated from Westminster College's Central Hall.
The debate space, which is normally a Methodist worship sanctuary, was laid out so that the small in-studio audience sat beneath the massive organ in what's normally the choir loft.
Audience members faced a wide stage backed with LED video panels set up in front of the lip of the room's balcony. Because of this arrangement, the stage and audience area was effectively flipped — with the audience sitting in the area that's normally the room's focal point with the candidates facing the pulpit.
The background used throughout the debate was a panoramic view of the Palace of Westminster, more commonly known as the Houses of Parliament, the building that houses the two parts of Britain's parliament — the House of Lords and House of Commons.
In addition to this image, a triangular pattern was added to the sky, which changed colors throughout the debate, typically as a multicolored gradient spanning the entire width. Often a person on one side of the stage had a completely different color behind than then someone on the opposite end.
One distracting element of the background, however, was that the "pixellation" effect from the individual LEDs was almost glaringly obvious at times — and even seemed to "vibrate" on certain shots.
The triangular elements, meanwhile, also were a bit distracting — but we wonder if they were added in an attempt to make the pixel look seem more on purpose.
Meanwhile, ITV News aired a debate April 1, that featured a set featuring dramatically lit blocky elements. Additional lighting was used to cast beams of light from the background out over the audience area, which was kept mostly shrouded in black.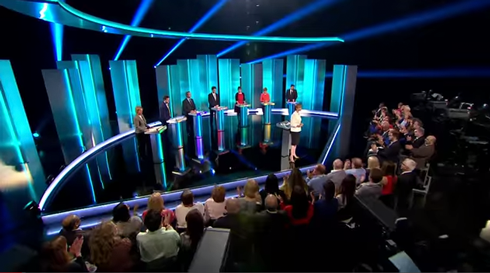 Both set designs are in stark contrast to many American debate sets, which typically stick to blue backgrounds accented with subtle elements (such as the text of the constitution). However, recent years have seen more innovative sets be used, perhaps most notably by CNN, which has used a freestanding background of interlocking cubes that can be configured with printed graphics, dimensional logos and video panels.
Watch the video of last week's debate here: