Wall Street Journal redesigns website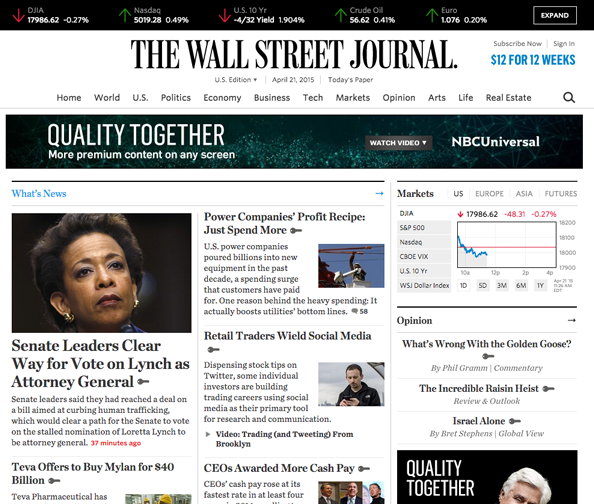 News Corp. owned Wall Street Journal has launched a redesigned website that incorporates multiple screen sizes and improved navigation.
The new site, which is rolling out in sections, includes a fully responsive design that adjusts content to fit screen sizes ranging from huge desk monitors down to mobile devices.
The new design also includes streamlined navigation that features dropdown megamenus under each main tab.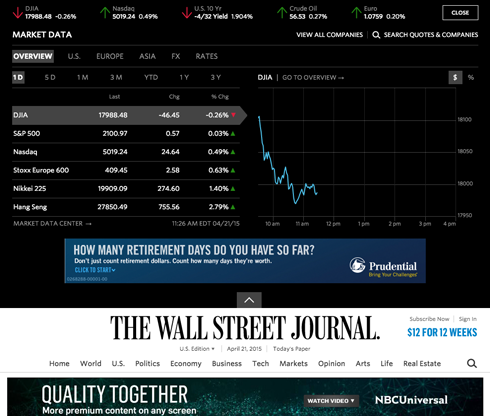 Another interesting feature is the black bar running across the top of the page, which features market summaries that update without refreshing the page (a particular interesting detail is the animation used when a market switches from "up" to "down"). Users can expand the bar to reveal a panel with more details and graphs.
Elsewhere on the new homepage, the layout remains rather traditional (likely catering to the WSJ's older-skewing demographic) and cluttered.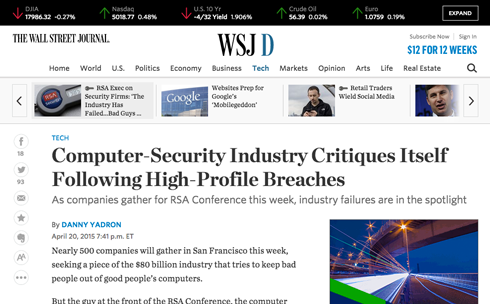 Story pages, meanwhile, also boast the black market bar along with a carousel-style list of animated thumbnails and headlines. Story content, meanwhile, features a cleaner layout and easy-to-read text with social sharing tools hovering in the left margin.