Chicago ABC tweaks WX graphics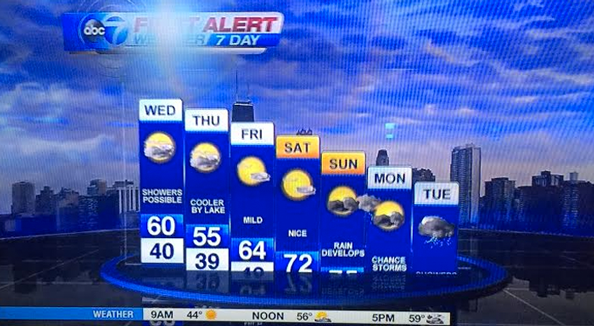 WLS-TV, the ABC O&O in Chicago, has rolled out some modifications to its weather graphics.
The changes mainly center around quasi-3D environments that include a stylized cityscape with a shiny "floor" that reflects the buildings. A thin blue ring on that surface anchors the information that appears to rise up into view.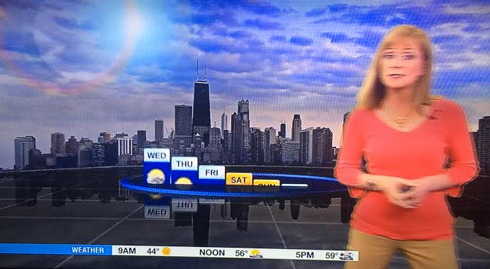 The format is used for weather headlines and other full-screen style graphics as well as the station's 7-day forecast board, which remains very similar otherwise.
In addition, WLS-TV has switched to using more 3D and animated weather maps, such as this temperature version, which starts out off-axis and spins around to the angle shown here.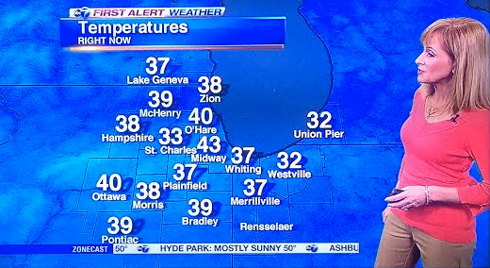 The changes come just over a year after the station rebranded its weather under the "First Alert" banner. Just a few months before that change, the station's newscasts returned to using the "Eyewitness News" moniker, which hadn't been seen in Chicago since 1996.
Perhaps fearing too much change at once, the station opted to simply use the name "Eyewitness News Weather" in the interim period between switching to "Eyewitness News" and "First Alert," a move that required some graphics changes to incorporate the new "First Alert" logo when the switchover did happen.
In addition to branding and on-air look, the station is in the midst of what is likely a highly strategic changing of the guard in the weather office.
Cheryl Scott, a former weekend forecaster at Chicago's NBC O&O WMAQ-TV joined WLS-TV earlier this year after sitting out a noncompete period.
Scott is widely expected to take longtime chief meteorologist Jerry Taft's place as he begins was is reported to be a gradual (and, again, likely strategic) move toward retirement.
Scott has already been making significant appearances on WLS-TV's air during prime newscasts and special event coverage and a promo released in February seems to feature Taft all but anointing her as his replacement.