ESPN's 'Mike & Mike' to move to Times Square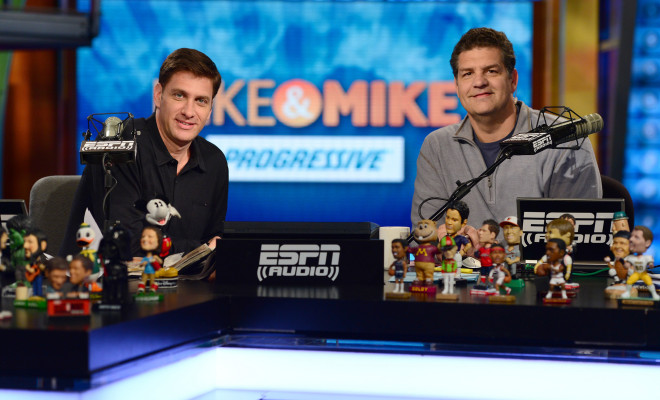 ESPN2's popular morning show "Mike & Mike" will move from the network's Connecticut facilities to New York City's Times Square in 2016.
The show, hosted by Mike Greenberg and Mike Golic, has been a fixture of ESPN2's morning lineup for 15 years, and will begin originating from the second floor of the Disney-owned Times Square Studios, just above the "Good Morning America" studio.
The move is slated to take place Monday, Feb. 8, 2016, the day after Super Bowl L.
The show, which is simulcast on ESPN Radio, currently originates from the Connecticut studio that's also used by "Sunday NFL Countdown" and "Baseball Tonight," mainly from an anchor desk placed in front of those show's sets.
The new studio facility, first opened in 1999, was originally configured as a multilevel home for "Good Morning America." The second level was a more traditional morning show set — while the first floor, which can be opened to the sidewalk, was designed as a faux train station and used for weather updates and other segments.
Since then, "Good Morning Morning" has shifted to only using the first level, mainly the space that once housed the train station set, in addition to the "Social Square" that was added last year.
The second level, meanwhile, has been used off and on for various ABC and ESPN productions, including many sports related programming, so "Mike & Mike" will feel right at home.
Disney also rents out the studio for other uses.
In the network's announcement of the move, ESPN points out that being right above "Good Morning America" will allow the two shows to share guest bookings.